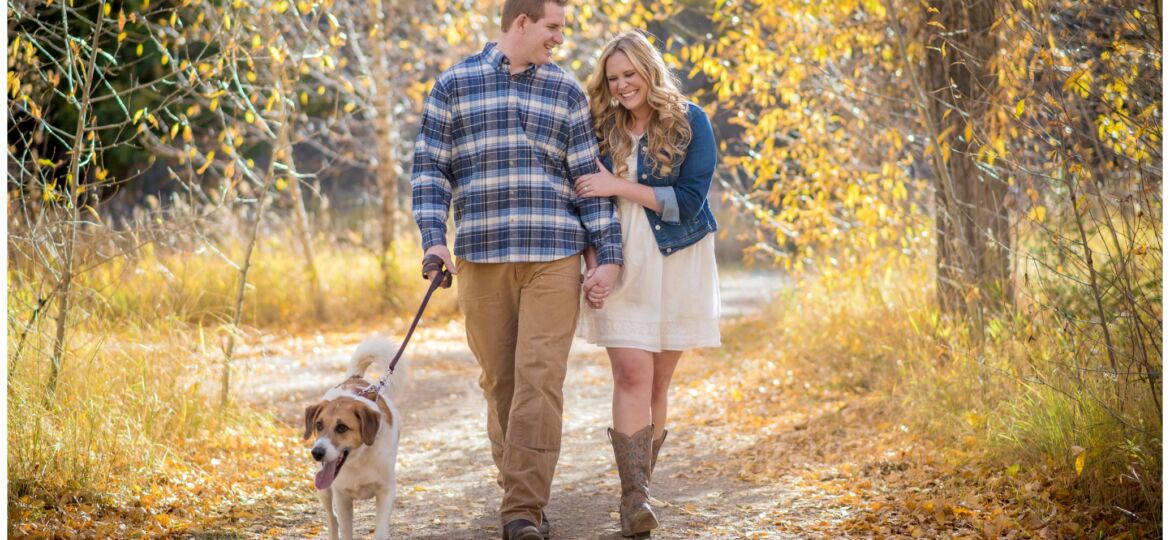 What more is there to love about these two than their adorable dog, amazing relationship, hilarious personalities, and genuine hearts? Let me tell you, from the first time we sat down to drinks with Holly and Ricky, we knew they were insanely awesome and that we wanted to be apart of their Colorado wedding next year at Deer Creek Valley Ranch. After nearly twelve years together, these two are tying the knot in 2017 and it was such a joy to hear their story about their love (especially in middle school), the move they made together and the life they're building in Colorado, about their jobs, and especially about their dog, Sara! When Holly and Ricky answered some questions about their story for us, Mike and I were literally in tears from laughing so hard! I honestly don't think I've laughed harder while reading our couples responses. Their conflicting (but oddly similar) storylines of how their relationship progressed from the 8th grade to their proposal to wedding planning, are perfect for these two. We are so thrilled and honored to get to be a part of their amazing day with them! Thank you two so much for sharing this time with us!
Love,
Mike and Tay
• How did you and two meet?
Holly:  "We met in 8th grade!  He tried to chat with me on AIM and I thought he was a different guy so I actually ignored him….eventually he came up to me and asked why I wouldn't talk to him?  It was so cute.  He says we met in 7th grade science class, but I swear I would have remembered those 2000s frosted blonde tips anywhere!"
Ricky:  "We DID meet in science class, I sat one row back from her!  And we met in the quad and a friend said we should date because we were both tall.  And she did also think I was a different Ricky, obviously I was the cool one."
• Tell us about your first date!
Holly : "Oh geez, for our first date our parents had to drop us off!  We met at the movies at the mall and watched Shrek 2.  He wouldn't hold my hand so I was pretty sure he didn't like me."
Ricky : "I couldn't believe a girl that pretty would want to go on a date with me, I was so shy that I was afraid to grab her hand until we were leaving."
• If Sara had a voice, what would she sound like/accent would she have? 
Holly : "Honestly, I always think of her as the dog from UP because she has absolutely zero attention span and she does love squirrels.  She's kind of dopey so I sometimes think she would have Eyore's voice but less sad, because she is definitely the happiest dog I've ever met."
Ricky : "She would obviously sound like a large and in charge valley girl who would use the word "like" and "I can't even" in every sentence."
• How did Ricky propose?
Ricky: "It was awesome! We were in Disneyland in Paris, I already had an idea that she knew it was coming (I mean we'd been together for 11 years at this point…) so I kept leading her to really romantic spots and pausing, only to ask her if she wanted to go get ice cream.  I could see the anticipation building up inside of her so I finally took her down to an secluded spot next to the Castle and proposed to her there.  She didn't say yes!  All she did was cry and nod, don't let her tell you she said yes, it's a lie." 
Holly : "We were in Europe on vacation and he had made it very clear nothing was going to happen, despite my probably annoying hints.  Also, he let me pack all of the bags, even his backpack so I was pretty convinced it wasn't going to happen. When it finally did on that stormy rainy day in Disneyland Paris, nothing could have been more perfect (and I DID say yes!)"
• When did you know you wanted to marry each other?
Holly : "I've always known I wanted to marry him, but I think when it finally felt real was when I told him I was going to law school anywhere in the country other than our home state and he said he would go anywhere in the world with me.  It was the sweetest moment of true love and support for me."
Ricky : "I don't know how to answer this, I've just always known she was the one."
• What's a fun quirk you love about the other?
Holly : "I wish I didn't have to tell him this, but when I'm upset or stressed he has this annoying but adorable habit of tickling me and having puppy "attack" me until I laugh.  It's so annoying but it's my favorite thing about him – he keeps me so happy and playful and far less serious than I would be with out him."
Ricky : "We've been together so long that she always knows what I'm about to say and steals my punch lines. I guess I need new material but I love that she knows me so well and still lets me say my lines, most of the time."

• What has been the most fun element of wedding planning?
Holly : "Pictures!! I've been wanting family photos with our dog for years and I honestly am so happy we finally had the perfect excuse for family photos."
Ricky : "My favorite part about planning the wedding was giving up food and soap to pay for it.  Once we cake taste that will probably be my second favorite."
• What are you most looking forward to on your wedding day?
Holly : "Spending the day with the people we love most – both friends and family.  I'm just so excited to have everyone we love in one place!  I'm also really looking forward to spending a few moments with Ricky alone during our first look, I think it'll be really special."
Ricky : "Food and Cake, seriously, how would any other guy answer this question??"