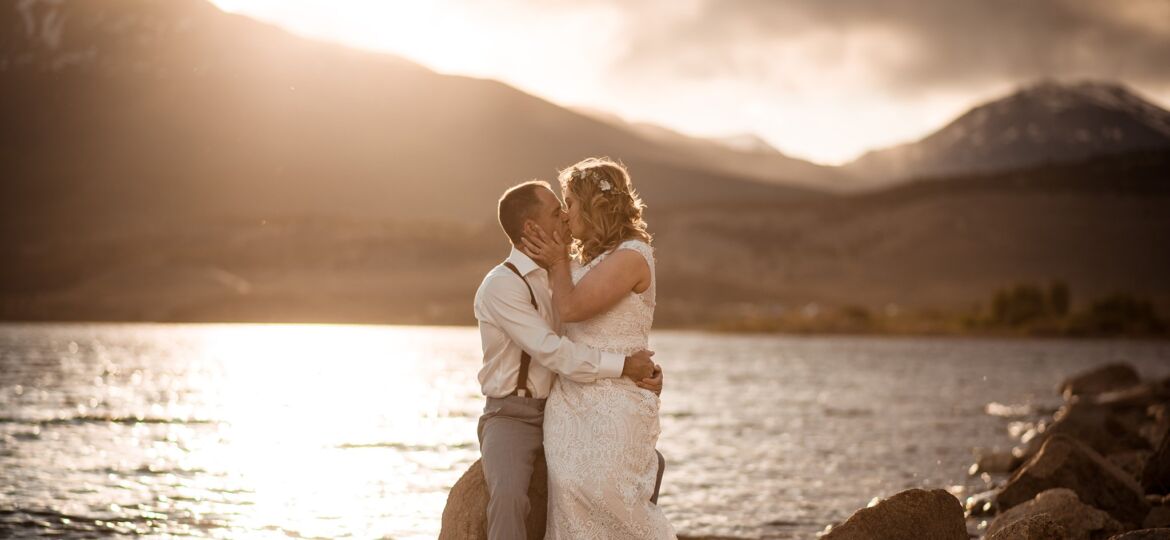 We are so stoked to share Stephen & LeeAnn's Colorado mountain wedding with y'all today!
This wedding was intimate, heart-felt, and full of love. It was more than a wedding, but a celebration of two families joining and committing to love and support each other. On a warm June evening in Colorado, Stephen and LeeAnn stood in front of a gorgeous lake flanked by towering mountains with snow kissed peaks and said 'I do.'
Stephen and LeeAnn are from Kentucky, and they really wanted to get married at a lake in Colorado. I knew Twin Lakes was the perfect location. LeeAnn had her heart set on snow covered mountaintops in the background, but unfortunately snow in June is hit or miss in Colorado. We still got awesome photos with towering mountains backdropping the serene lake.  
Stephen's oldest son performed the ceremony, then the couple read personal vows to each other, and afterwards read their vows to the kids. The connection between the kids and their parents was really special. Even though they had teenage boys who were really stoked about getting steak after the wedding, all the kids were really engaged during the ceremony and soaked up everything that was going on. 
The couple had a blast taking photos! They were super willing to get in the lake with me and be playful with one another. Leanne made her own bouquet out of wood flowers and did a wonderful job styling and coordinating everyone. They all wore hiking boots to the wedding and truly embraced their Colorado atmosphere in a fun way. 
The sunset that evening at Twin Lakes was spectacular. Twin Lakes is just amazing and provides a wonderful location for small intimate, micro weddings and elopements. It's so easy to get married there. You can get world class views right off the parking lot. If you have hiking boots like this family, great! But it's also very doable in heels. 
I'm so glad the couple went with Twin Lakes as their wedding location. You get a picture-perfect view with some of the nation's highest peaks and two glistening glacial lakes below. It's close to Buena Vista and Leadville. It's not far from Breckenridge and is just on the other side of the mountain from Aspen. The iconic Independence Pass is at the base of the mountain and The Colorado Trail goes right along Twin Lakes. It's a unique spot, but easy access for ceremonies with no shortage of outdoor fun before or after the wedding day.  
I hope you enjoy this glimpse into a great evening with this special couple at a fantastic location.