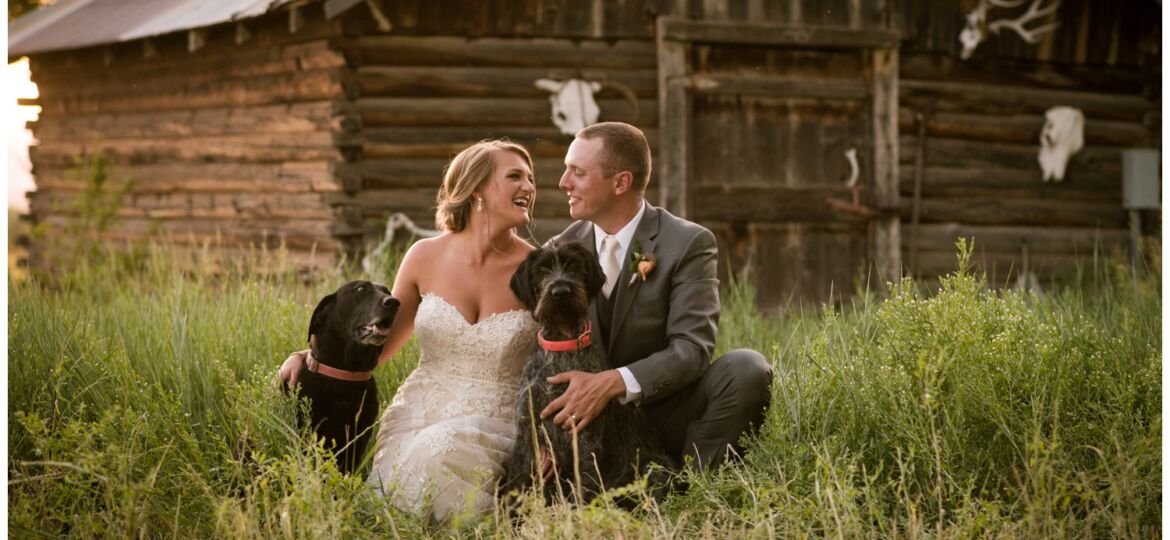 Returning to your childhood stomping grounds is always a nostalgic experience. However, when you return with your soon-to-be husband, family, and friends for your wedding day, it's an even more incredible day! Lilly and Tim had one of the most memorable and sincere weddings at her folks ranch in Crawford, Colorado. After their beautiful ceremony at The Lodge at Needle Rock, everyone headed down the dirt road to her parents house where we all celebrated this amazing couples marriage. It was truly an honor to be a part of this time with you both, Lilly and Tim. Thank you so much for having us be there with you to document your awesome wedding day!
Cheers,
Mike and Tay
• How did the two of you meet? "We met through my older brother, Tim and he are best friends through hunting. We knew of each other for quite a few years but never really spent a lot of Tim together because I was either off at school or he was down in Texas. Finally we made the time to get to know each other and the rest is history."
• Tim, how did you propose? "I took her on one of our favorite hikes up by Evergreen to a field of wildflowers last summer. When we got to the top I called her over and got down on one knee to propose."
• Tell us about your first date! "Our first date was actually to Tim's friends' wedding in Wyoming. Maybe a little daring for a first date, but it was one of the only times we would both be back in Colorado before I left for my job in California and he was back in Texas for work. And it obviously worked out! We had met each other before and hung out a few times when we were all over at my brother's house but had never gone on a date before. It turned out to be a fun weekend and I even convinced him to go on a second date at my friends' wedding with me the next weekend."
• How did you guys choose The Lodge at Needle Rock for your wedding venue? "I knew I always wanted to get married over where I grew up but wanted to make it a little different since my brother and a family friend already had their weddings on my parents ranch. So we actually started with a different venue but it fell through and the owners of the lodge had just moved to town and it all just fell into place from there! It was kind of fun being their first wedding because we were able to figure it all out together."
• What was your most memorable moment from your wedding day?
Tim: "Seeing Lilly walk down the aisle for the first time in her wedding dress."
Lilly: "Sharing our personal vows with each other that we had written."
• What was the most fun part of wedding planning for you?
Lilly: "Watching it all come together the week before. All of our ideas started to take shape. And also getting to build the alter and our bar with old barnwood from my grandma's old barn. It made it all so meaningful."
Tim: "Proposing to Lilly."
• What are you most looking forward to in marriage?
Tim: "Spending a lifetime with Lilly and building our own family."
Lilly: "Sharing my life with my best friend and all the fun adventures we end up on!"
• If you could pick one word to describe your wedding ceremony, what would it be?
Tim: "Full of love."
Lilly: "Elegant."
• Tell us about planning your wedding at your folks house. What inspired an awesome backyard wedding? "I loved it because we were able to make everything our own and exactly how we wanted it. It was probably more work than a set venue but also so much fun and so meaningful to both of us. We both have so many fun memories together there so it just seemed obvious to do at least part of it on the ranch. Nothing was laid out easy for us, but all our friends and family stepped in to set it all up. All of our vendors were awesome too and came from all over the state. We really couldn't have pulled it off without them. One of my favorite parts about having it at the ranch was being able to craft and make it our own with specialty pieces and top it off with so many beautiful flowers! For instance making the bar was so fun because it was all wood from my grandma's old barn that Tim and I got to refinish. And then my mom and I stained it and our family friends made us a beautiful sign and metal top for it, so it really became a community effort to make it all work and made Tim and I feel so loved from all the help we received!"
• What advice do you have for couples planning their wedding now? "Don't make wedding planning the only thing you do together! Make sure you are still sharing fun experiences together and not getting bogged down in the details and stresses of the wedding. also give yourself time to plan a wedding so you can spread it out and not down to the wire to finish everything. Do as much early on as you can so you can enjoy the week leading up to it and have fun! I didn't have a lot to do the last week and it was honestly one of the most relaxing weeks of the wedding planning process!"
• Are you going on a honeymoon? If so, where are you going? "We just got back! We went to Antigua for a week! It was the best decision to do it right after because we got a chance to spend the first week we were married just the two of us and slow everything down!"
Catering: A Perfect Bite Catering
Videographer: 14k Media
Flowers: Studio Z Flowers
Dress: The Bridal Collection
Cake: CakeLady Designs
Venue: The Lodge at Needle Rock
DJ: A Music Plus
Day of Coordinator: Kimberly Rose Events