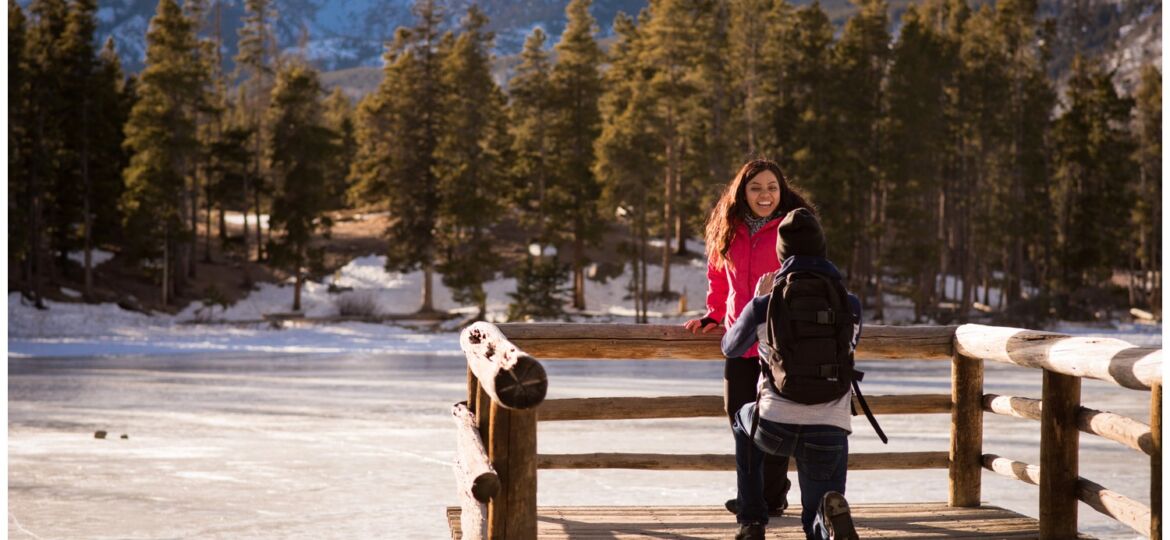 Rocky Mountain National Park Proposal at Sprague Lake
Shooting proposals is one of our favorite parts of our job as Colorado wedding and engagement photographers. Especially when it's a Rocky Mountain National Park Proposal! We get a rush nothing else when we see a couple show up to our meeting spot. Knowing that the girl holding the hand of her beloved boyfriend is about to be a bride is an incredible experience. When Eduardo called us last fall to tell us of his plans to propose to his girlfriend, Karen, on their weekend getaway to Colorado, we were so excited to be apart of it!
We chatted about Colorado locations that he was interested in popping the question at. Since they were coming from San Antonio, Texas, he wasn't sure of the exact location, but knew that it absolutely had to be a Rocky Mountain National Park Proposal! Immediately, knowing it was going to be winter, I suggested Sprague Lake. The views from this spot are absolutely breathtaking. What's more, it's easily accessible in the winter, one of the few places that is in RMNP.
When these two showed up at Sprague Lake…
I was on my way to the entrance to keep an eye out for them. From across the lake I saw Karen's bright pink jacket and made a beeline to the other side of the lake to meet up with them. Mike was on the other side of the lake at the pier––the proposal spot. When I met up with them, they were exploring and having a snowball fight. We knew Karen was completely clueless as to what was about to happen! They slowly made their way to the pier as Mike and I prepared for the big moment. But before he popped the question, Karen escorted him out to the frozen lake for some "ice skating"!
You can easily tell from the images how sincere and sweet this wonderful couple is…and how caught off guard Karen was! Thank you, Eduardo, for having us be apart of this incredible moment for the two of you! Congratulations on your engagement. We can't wait to see where marriage takes you guys!
Cheers,
Taylor and Mike