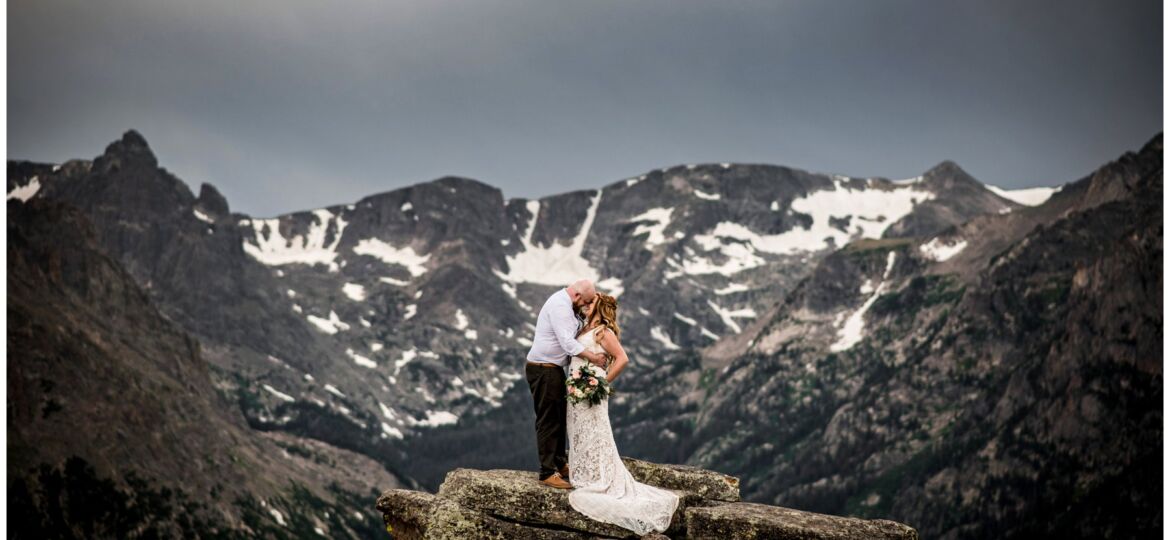 Rocky Mountain National Park Elopement
Rocky Mountain National Park Elopement | Adam and Jhori Rippy | Trail Ridge Road Elopement
I'm not going to lie, my photography wanderlust has been driving me to shoot an intimate Rocky Rocky Mountain National Park Elopement for quite some time now. So, when Jhori e-mailed and said that she and fiancé Adam were still working out the details of their intimate Colorado wedding, I was hooked. She let me know that while they didn't know all of the details just yet, they knew they wanted to work with us. Naturally, my heart fluttered and I melted. We chatted for a couple months about location ideas for them to say their vows. However, without a doubt, these two were set on having their portraits taken on the ever lusted after Trail Ridge Road in Rocky Mountain National Park. I would later learn (at 10,00ft) that Jhori has an insane fear of heights. So picture it…a windy, daunting, and intimidating 12,183ft above sea level as a storm rolls in. This isn't a likely spot for portraits for someone with a fear of heights! Nevertheless, Jhori did say that her friends and family would be so proud of her when they saw the heights she was willing to summit in the name of beautiful portraits! And girl, it totally paid off!
With their three kids and closest family members in tow from Indiana, everyone headed west for Jhori and Adam's beautiful wedding ceremony. It was truly one of the most magical days I've had the honor of being a part of. With close family, raindrops, elk, incredible 14,000ft mountains surrounding them, and in true Colorado form with storm clouds chasing us, could it have been more perfect? I think not! Plus, a bride who wears Birkenstocks under her wedding dress so we can hike, is my kind of gal!
Congratulations, Mr. & Mrs. Rippy! I am so thrilled you invited me to be a part of your incredible and intimate wedding day. We can't wait to see you again in Colorado!
Love,
Taylor