Missoula Montana Wedding Photographer at the Missoula Winery
As most of you know, we love traveling. What's more, is that we love road trips. Mallory and I have known each other for a few years now, mainly seeing each other at friends weddings and baby showers. However, when she and Steve got engaged and they asked us to be apart of their Montana wedding at Steve's family business, the Missoula Winery, a friendship immediately started to bloom. We were so excited to hear that they were planning a short engagement and an intimate wedding with close friends and family at a very special place to them. Not only is their wedding venue part of the family, it was also where they had their first date.
These two are like two peas in a pod. The morning of the wedding, we only heard about how they couldn't wait to see each other and have some time alone. At their first look, it was obvious how much they needed to be together on their wedding day (a luxury many couples don't get to experience) and how connected and in love these two are. Mallory and Steve, thank you so much for having us be apart of this incredible time with y'all! We are truly honored to have you in our lives and call you friends! Thank you so much for the excuse to take two weeks off and drive up to Montana for your special day. We love you both and can't wait to see where life and marriage take you!
Love, Mike and Tay
How did the two of you meet?
"We met in Missoula, MT through some mutual friends. My friend and I were at a March mustache party and couldn't get a cab home (there was no such thing as Uber then), so she said, "I know who I can call, the nicest guy I know." So Steve Weaver picked a couple intoxicated mustache-wearing girls up at 2am. We flirted and made late night deer steaks at our friend's house that night and then he came to the restaurant I worked at and "forgot" his wallet so, I had to bring it to him and he asked me on a date. The rest is history (as cliche as that sounds)."
How did Steve propose?
"It was right before Christmas last year. We had his family visiting for the holidays and when his mom had to run to pick people up at the airport he proposed at home. He put the ring on our dog's collar and told me that there was something wrong with our dog and I needed to look at him. I actually got down on one knee first freaking out that something was wrong with the dog. Then I saw it and he got down on his knee and asked me. It was sweet to have the dog involved, but I'm pretty sure he thought we were a bunch of weirdos hugging and crying on the floor."
Tell us about your first look! Having done one, would you do it again?
"Yes! It was perfect for us to have that alone time to reflect on what is really important about the whole day. And it helped get rid of the nerves (for Steve). Also, Taylor and Mike were so thoughtful to bring a bottle of wine and a couple glasses to help us relax a little."
Tell us about planning your wedding out of state in Montana. What was the best part?
"The best part was being able to have that connection to Montana for this important life event and the extra time I got to have with my family through visits to Montana and phone conversations about the details. I am very close with my sisters; however, I am in Denver and they are all in Montana. Having the extra time and excuse to come visit made the whole experience so much more meaningful."
How did you guys choose your folks winery for your wedding venue?
"Umm…it was free. Lol! We weren't totally sold on having a traditional wedding until we realized how important it was to our families to be there for our wedding. We knew if we had a wedding it would be in Montana. The winery was a perfect option for us. Actually, we had our first date there. Steve took me to the winery after hours and we enjoyed a couple glasses (…er bottles) together getting to know each other. I guess you could say, "He had me at Merlot."
What was your most memorable moment from your wedding day?
 "The ceremony. My cousin officiated it and it was absolutely beautiful and very personal."
What advice do you have for couples planning their wedding now?
"We planned our wedding in 6 months and sometimes it was overwhelming. But, it helped with not over-thinking things–we made decisions and moved on. My advice would be to get the big things booked right away (i.e. Venue, DJ, Caterer, Photographer) and then have fun with the details. Also, use Taylor. She wasn't just a great photographer, but she also did all of my save the dates and invitations. They turned out so great."
What was the most fun part of wedding planning for you?
"Planning the food and alcohol. I knew that as long as people weren't hungry or thirsty, they would have a good time. Also, planning the playlist. We had a great DJ who captured the vibe really well. We even paid for an extra hour at the end of the night because we couldn't get people off the dance floor."
What are you most looking forward to in marriage?
"Enjoying all the adventures of life and growing old together."
Are you going on a honeymoon?
"Yes, we plan on going to Vietnam in the beginning of 2018. We are riding a motorcycle on the coastal highway from the North to the South."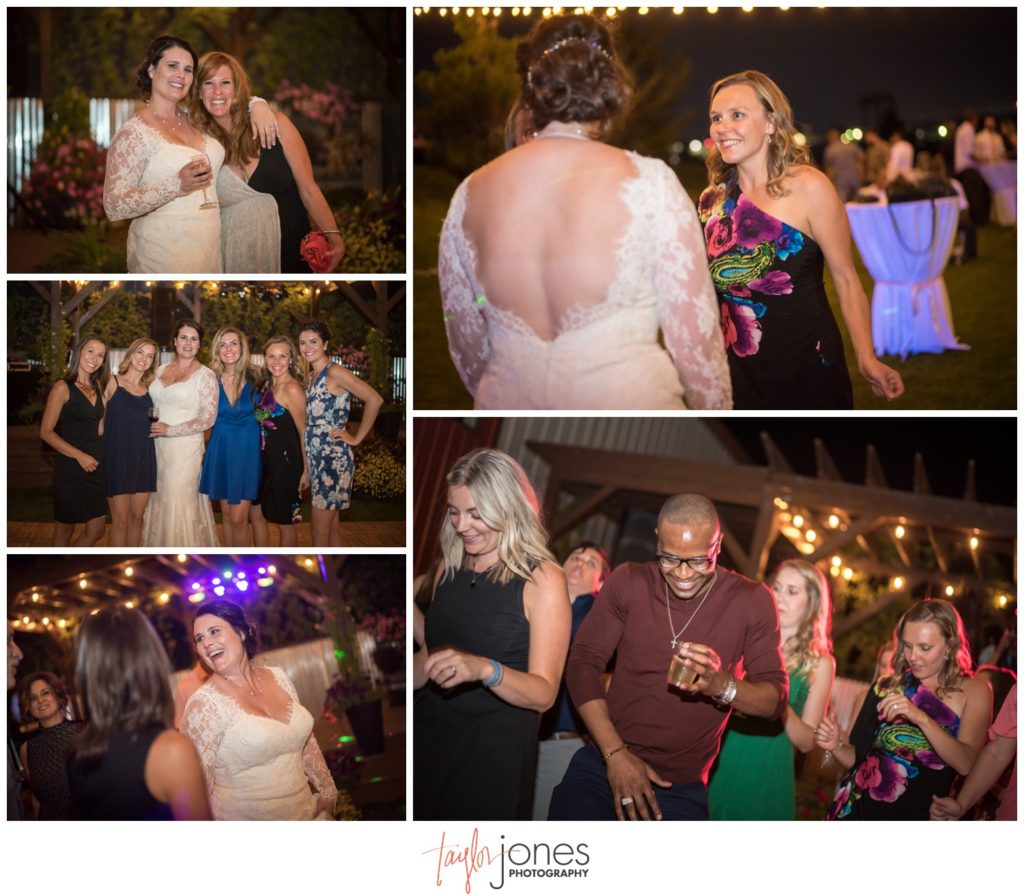 VENDORS
Venue :: Missoula Winery & Event Center
Caterer :: Burns Street Bistro
Dessert :: Poppy
Flowers :: Fifty Flowers, Suz Healy (florist)
Day of Coordinator :: Suz Healy, Prive Events
DJ :: RMF Entertainment
Invitation Designer :: Taylor Fisher with Taylor Jones Photography
Pianist- Seth Quay
Officiant- Ben Quay