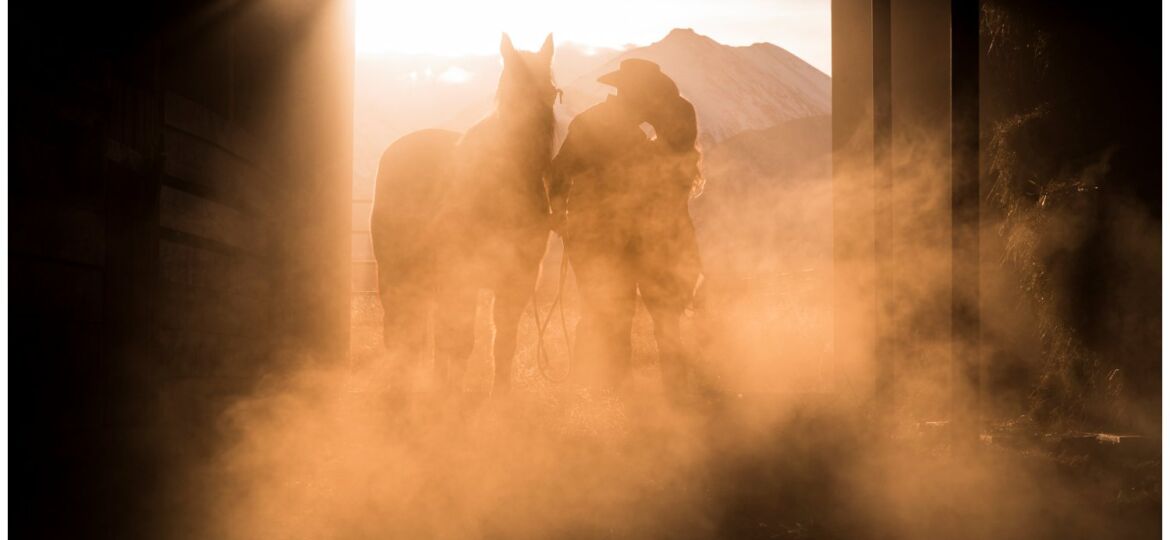 What's better than meeting an unbelievable couple whose engagement shoot is on their family ranch across the street from you? Knowing they're going to be tying the knot there in only six months! When we met Jen at the Heart of the Rockies Un-Bridal Show in January, we were immediately thrilled to hear about their wedding. Jen was rocking her cowgirl boots (real ones that have been loved, not the concert going boots) and lit up like a light when she talked about her fiance, Jake. His family owns a ranch in Nathrop, Colorado where they have their horses, cattle, and cool fat cat, Luke, and is the spot they've chosen, beneath the breathtaking Collegiate Peaks, to say their vows to each other.
When we arrived at their shoot, we were immediately welcomed with open arms and hugs all around from Jen, Jake, and Jake's mama. We jumped into Jake's truck and headed out to the property where we giddily had him stop at the barn, got to work with horses, checked out their renovated cabin (where Jen and her girls will be getting ready on their wedding day), got to see their ceremony site, and hear all about Jake's growing up in Nathrop, Colorado with five kids in his family.
Jen and Jake's story is literally one you'd see in a movie. Their meet-cute? Jen saw Jake limping into their dormitory in college after his rodeo practice. She held the door open for him (seeing he was injured) and from there, their story begins. It's the perfect beginning to this amazing couple's story. We are so thankful to have met you two and to get to be a part of your amazing, intimate, and adventurous wedding day! Congratulations, Jen and Jake, and thank you for having us be a part of this with you.
Love,
Mike and Tay
• How did you two meet? "Jake and I met in college. We lived in the same dorm and Jake came limping in from rodeo practice. I saw it and held the door open for him while he TRIED going up the stairs. We started talking from there!"
• Tell us about your first date! "Our first date Jake asked me out for coffee. From there, he brought me to a dance studio that overlooked all of Grand Junction. He played music and danced with me. Then we went back downstairs and he played the piano for me. Then we sat there and talked for hours! I will never forget it!"
• How did Jake propose? "Jake brought me to Garden of the Gods. He had his brother there to take pictures. We were walking around and he found a trail to go up (one that said keep out). His brother was taking pictures of the view and Jake kneeled down when I was talking to his brother. I turned around and he proposed by one of the big rock formations."
• What's one fun quirk you love about each other? "I love how when Jake gets excited he gets the cheesiest smile on his face and is like a little kid again! Jake loves how tough I am when it comes to getting dirty at the ranch, or when I tell him "I'm about ready to kick you in the head"-he loves my sass. HA!"
• What are you most looking forward to on your wedding day? "I'm most looking forward to the expressions on Jake's and my dad's faces when they see me:) Jake is most excited to see me in my dress."
• What's been the most fun part of wedding planning? "The most fun part of wedding planning was definitely the dress shopping for me! For Jake, the most fun part was testing out the caterer because she fed him very well and Jake really loves food!"