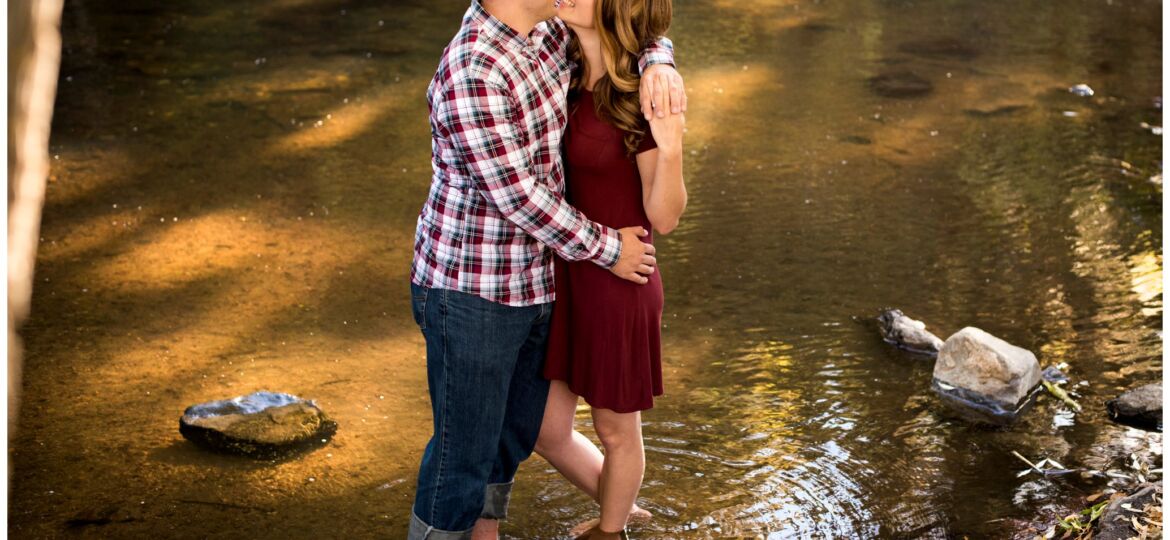 You guys. I wish so much that we could bottle up the love and connection this amazing couple has and share it with the world…we'd seriously be bajillionaires. We first met Elizabeth and Jared for coffee in August and immediately fell in love with them and their story and their vision for their wedding day. We knew the stakes were high as they had big plans for their wedding photography and wanted to hire the right photographers, so we were humbled just to be in the runnings with some of Colorado's best. Needless to say, we were completely thrilled and honored when they asked us to be a part of their engagement season and wedding day! These high school sweethearts have two of the biggest hearts we've ever seen and come on…are they not two of the most photogenic folks ever?! I seriously felt like we were shooting a Taylor Swift music video with them. Their sense of adventure (and willingness to follow me into the river at Lair O'the Bair Park) and photo ideas they brought with them was so refreshing. Their connection and adoration for each other is so apparent in how the love and respect the other. We are so elated to have been welcomed into their lives and be given the opportunity to document this incredible time in their lives! Congratulations, Elizabeth and Jared! We love you guys and are so excited for you!
Cheers,
Mike and Tay
How did you two meet? 
 Elizabeth – "Jared and I met in high school. He played varsity lacrosse, and I was the water girl with one of my high school best friends. She and I decided to volunteer for the team because we had both done the spring musical together, and we wanted another after school activity we could do once the musical had ended. Jared had to sit out of practice one day because he was injured, and I happened to be sitting on the sidelines that day too. My friend wasn't there yet, so Jared struck up a conversation with me, and we clicked right away. We started hanging out, we became close friends, and eventually we started dating."
Tell us about your first date!
Elizabeth – "Our very first date was to Red Robin. Jared drove us here for dinner (because where else do you go when you're 15 and 16 years old?), and we indulged in burgers, bottomless fries, and a milkshake. Memorable moments, you ask? Jared forgot his wallet, so I ending up having to pay for our meal – Not a big deal at all, and I liked him so much (and he was SO cute!) that it didn't even phase me. He felt so bad and said he would pay me back and get the next one, and we ended up laughing about it for the rest of the night. The whole date was perfect, and thankfully, despite the hiccup, we ended up going on many dates after that."
When did you know you wanted to marry each other? 
Jared – "I was living in Utah for work at the time, and I came back from Salt Lake City to visit Elizabeth for her birthday. My brother picked me up from the airport and we drove to pick her up. When I saw Elizabeth that night, I had never been happier in a single moment in my entire life. I hadn't seen her in weeks, and I missed her like crazy, and I knew in that moment, that I needed to ask you to marry me. We enjoyed the rest of the trip together, and when I got back home to Salt Lake City, I started figuring out how I would get the ring and how I would ask her to marry me."
Elizabeth – "This is a tough one because I have known I wanted to marry him for what seems like years. There was never a specific instance where I knew, and I think as we've gone through life, we have grown stronger together and it has always been so natural. In high school, he became my boyfriend and my best friend, and once we got to college, I realized more and more that he was the one I wanted to spend my life with. I think I really knew that I wanted to marry him when he came back from Utah for my birthday. For some reason, I felt myself fall deeper in love with him that week, and the reality of him becoming my husband and me becoming his wife is something that I wanted even more."
How did Jared propose?
Elizabeth – "I was on Thanksgiving break during my final semester of college, and Jared was living in Utah for work at the time. He was back that week for the holiday, and at the beginning of the week, he said that he wanted 
Friday
 evening to be "date night" just the two of us. He wanted to take me out to dinner since we weren't getting a lot of alone time that week with all the craziness of the holiday. So I blocked it on my calendar… He was so non-specific and laid-back about the night, so I had no idea what was coming.
Jared picked me up on Friday evening, and we went to Capital Grille, the restaurant where we had our first anniversary dinner. Dinner was delicious, but I could tell that Jared was nervous about something. But again, I played it off as nothing significant. Towards the end of the meal, Jared asked me if I wanted to go do something else, either see the Christmas lights at the Botanic Gardens or go see the lights at the zoo. Even though it was just barely starting to snow, he wanted to make the most of his time in town and this was something spontaneous and fun. I didn't know about this plan prior to being picked up for dinner, so I wasn't as prepared for the weather as I would've liked to be… but Jared was very persistent about going to see lights, saying that he only comes to town every so often, it's a holiday week, etc. etc. I even put "watching a movie on our couch" back on the table once more, but he didn't take the bait. I began thinking that on the off-chance that this was the engagement, I shouldn't be too stubborn, so I decided to give in, and sure enough, we journeyed to the lights.
We were going through the path of lights, and we stopped at a point by a small gazebo, just right off the path. It was a pretty quiet night, just starting to snow, he got down on one knee and asked me to marry him. I said "Yes!" and the rest is history."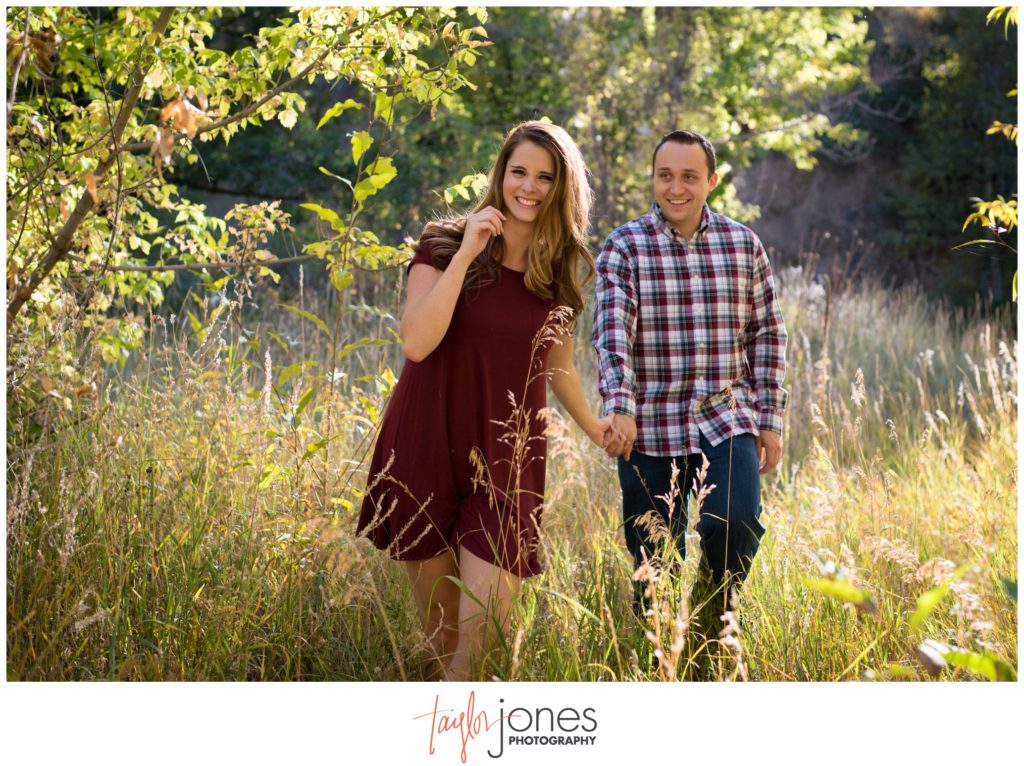 What has been the most fun element of wedding planning?
Jared – "Probably for me, our engagement photo shoot. I had a lot of fun taking pictures with Elizabeth and learning how to 'slow run' through grass."
Elizabeth – "Finding my wedding dress was pretty incredible. Having my mom, sister, and one of my best friends there with me was such a special moment. I didn't know what it would feel like, but once I found the one, I knew it and so did they. I wish I could relive that moment!"
What are you most looking forward to on your wedding day?
Jared – "Saying "I do!" and getting to call you my wife. Honestly, that's something I'm really looking forward to. I'm also looking forward to having all of our friends and family together in one place. But probably the thing I'm MOST looking forward to is seeing her happy that day."
Elizabeth – "I'm excited for the whole day and seeing it all come together, but I'm probably most looking forward to our First Look. I'm already feeling butterflies just thinking about seeing him and having that special alone time before the wedding! I'm also excited to finally say "I do!" in front of all of our closest family and friends. I cannot wait to see everybody!"