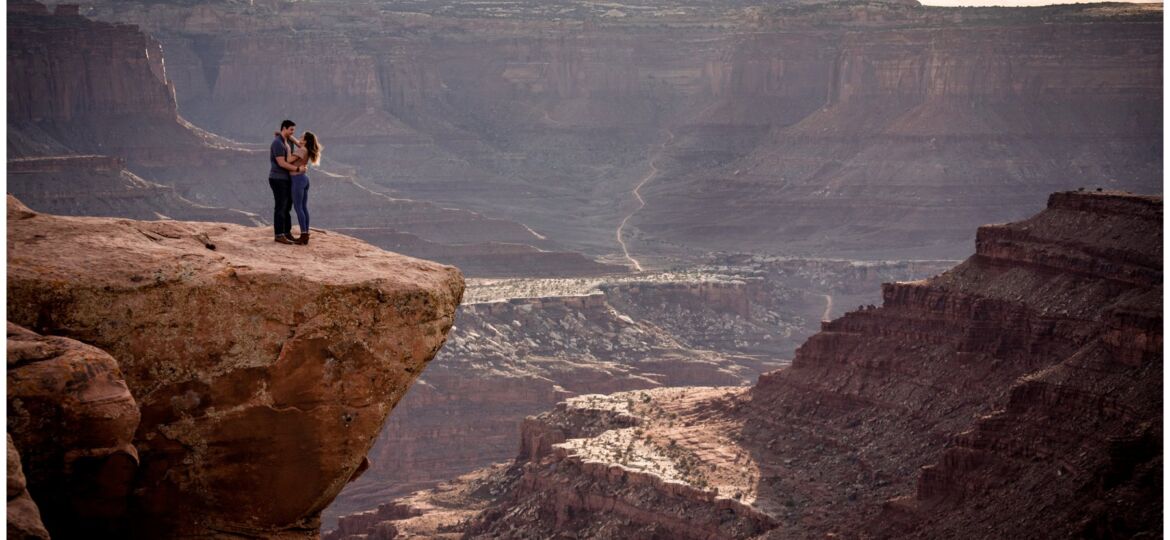 Dead Horse Point Proposal | Zachary and Erin | Moab Photographer
You guys, we're SO excited to share this Dead Horse Point proposal with y'all for a number of reasons. But the number one reason: the groom is my little brother! Mike and I have been married for going on 5 years now. Keep in mind that of the 6 kids in my family, 4 of us are less than four years apart. Needless to say, I've been waiting a while for one of my siblings to join us in the journey of marriage.
I had spent some time trying to convince my brother, Zachary, to join online dating in his then newly adopted town of Baltimore, Maryland. He was insanely reluctant. However, after our wedding in 2014, unbeknownst to me, he joined the same site that Mike and I had met on two years earlier. Within weeks he had his first date with the love of his life and gal in these photos…Erin.
Their journey has been a long one: from meeting to their one year anniversary, they had moved cross-country to Colorado, adopted their puppy, Kaida, and added two felines to their family. They moved twice their first year in Colorado, and Zach had something like three jobs that first year. However, in their four years together, they were willing to do whatever it took to accomplish each others dreams. Erin has gone back to school for social work, applied for her masters program, and worked a few jobs herself on her journey to her dream career. They've hiked some of the best trails Colorado has to offer, hit up more Rockies games than anyone else I know (which is like, 5 games), and love checking out new breweries.
Since they had been together over 4 years, Zach knew he wanted Erin's proposal to be epic. Truthfully, Erin is such a sweet and simple gal that she probably would have been happy with a "Netflix and chill" proposal. But when Zach called me to tell me her ring was in route to Colorado (from our family jeweler in West Virginia) and that he was planning to come meet us on our 3 week trip in Moab, Utah, Mike and I were absolutely thrilled! It didn't take me longer than 10 seconds to throw out the idea of a Dead Horse Point proposal, as it's one of the most beautiful places in America. Once Zach saw a few photos of the point, he was sold and knew Erin would be, too (despite her incredible phobia of heights). We'll let them finish telling their story below, so enjoy!
We're just so thrilled for Zach and our soon-to-be sister-in-law, Erin. We love you both and are so thankful we got to share in this memory with you two.
Love, Mike and Tay (and Colter)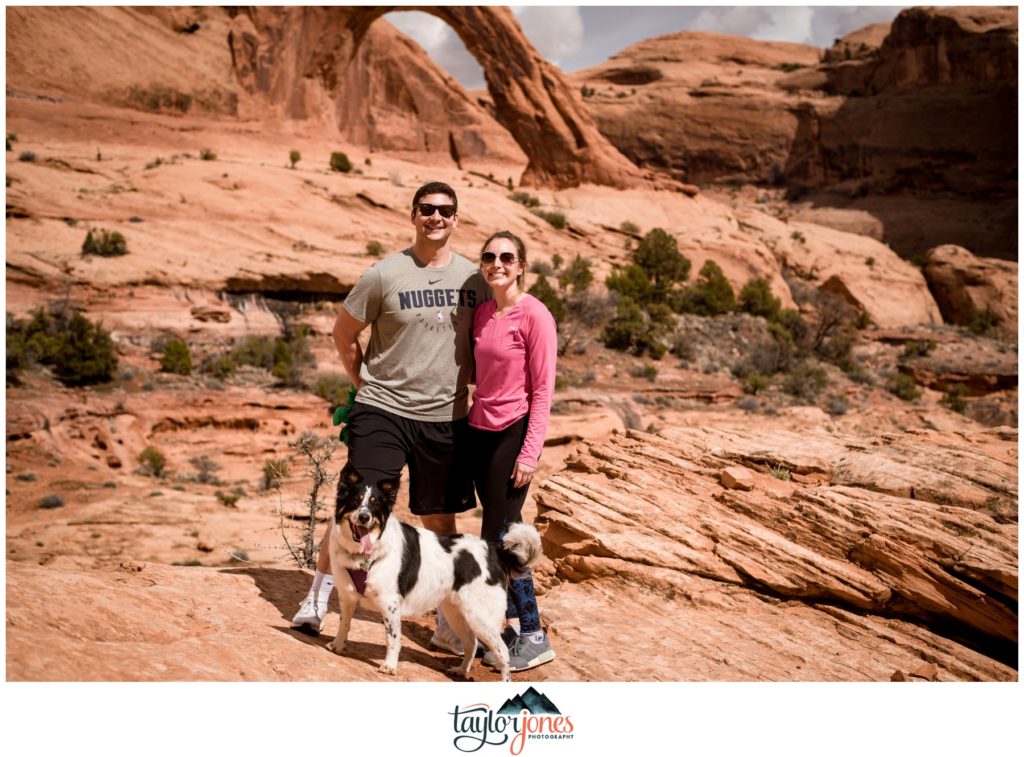 (Our hike earlier in the afternoon at Corona Arch)
(The pose Zach wanted me to ask him to do…then tell him he did a bad job and I wanted Erin to do it.)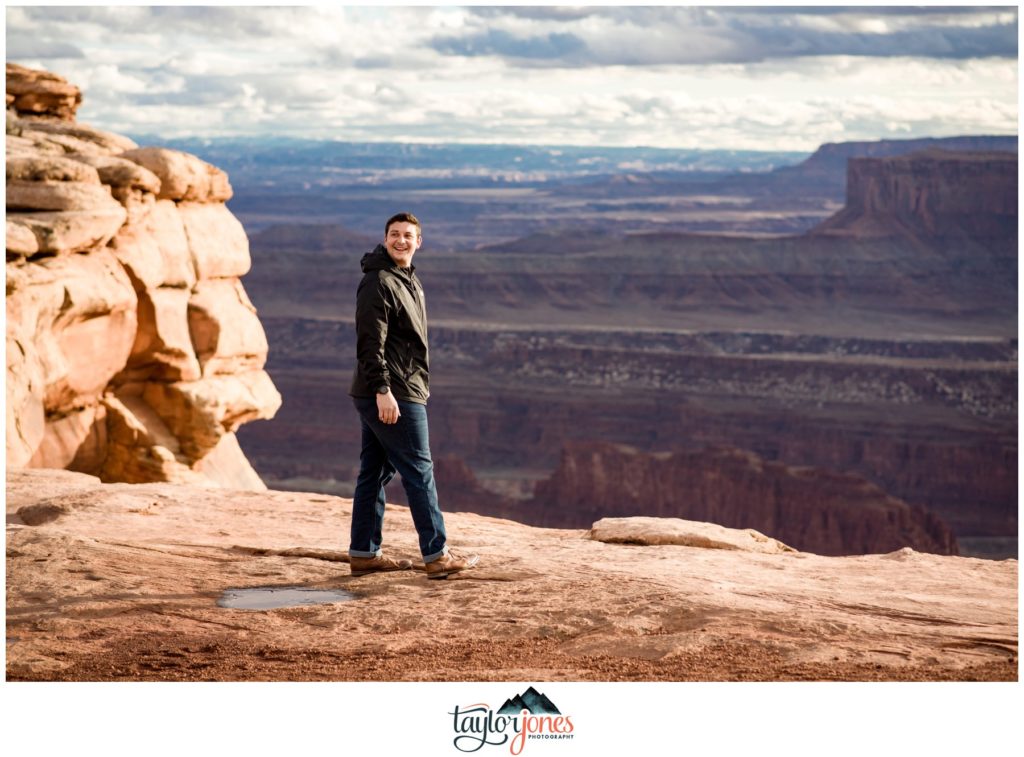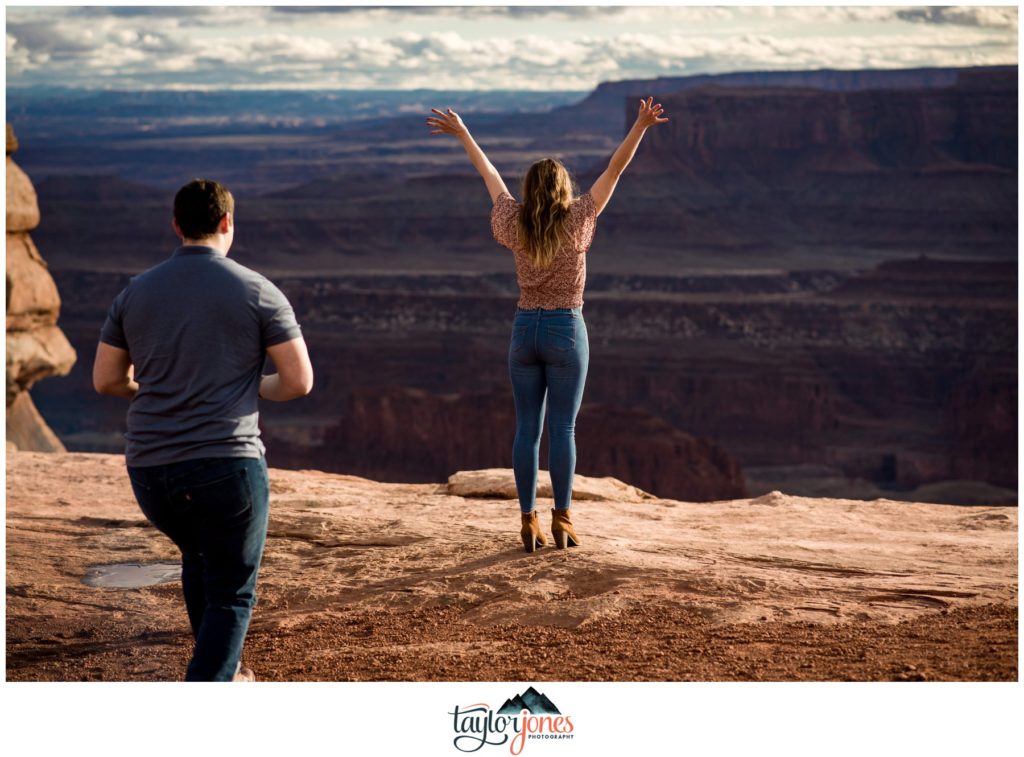 How did the two of you meet?
Like most millennial's, I was on a mission to find someone to date the most efficient and easiest way, so I was told about online dating from my sister, Taylor Fisher. At first, I was very skeptical just due to the fact that at the time (2014) online dating was still a little taboo and I was embarrassed to admit that I was looking for my future wife. Little did I know that after my first date with a young beautiful women by the name of Erin Cocchiaro, would that all change.
Tell us about your first date!
Zach: "Our first date was at a beautiful seafood restaurant in Federal Hill, Baltimore Maryland called Regi's. It was a wonderful night with clear skies and the smell of fish from the harbor wafting in the night air. However, I did end up waiting for Erin for about 20 minutes and was about to get up and leave until she FINALLY showed looking absolutely stunning. As soon as I saw her walking with with her velvet red top, seductive blue almond shaped eyes, and a smile that could bring up the mood at a funeral, I know she was the one for me.
Of course on our first date, I did all the talking. Erin wasn't feeling well, so I'm sure she didn't mind me blabbering about crazy college days and wild nights our in Federal Hill partying with my past co-workers. Before our meal I was excited to see that she went for the soup and salad because that allowed me to splurge a little bit more on myself and get the shrimp, crab cake, and bacon sandwich with a pile fries that she eyed the whole dinner. Erin and I spent three hours sitting in the restaurant sharing past experiences, family stories, and making sure that we weren't crazy people that just met online and going to kill each other after dinner. Later on I walked Erin home, gave a her a good night kiss on the cheek (she wouldn't let me really kiss her on our first date), and rest was history."
•
Erin: "We went to a local restaurant around the corner from where I was living at the time. I remember having some of the best lobster bisque of my life! Zach was by far one of the most charming guys I had ever met and I immediately felt at ease. The most memorable part was probably the fact that I told him I lived pretty far away so when he asked to walk me home and found out I was mere steps away he had a good laugh! You can never be too safe when meeting a man online. I just lucked out with him!"
Tell us your Dead Horse Point proposal story from your point of view.
Zach: "Our proposal was something that I had been planning for a few months. Taylor and Mike invited Erin and I down for a long weekend hang out with them and explore the rugged town of Moab, UT. We were planning on taking the trip in late March, but starting planning the perfect proposal in the middle of January. Taylor and Mike were amazing about picking the perfect spot, time of day, and logistics on how we'd make it all come together. We decided to shoot for Friday night once Erin and I got to Moab. I think out of everyone there, Taylor was the most nervous our of all of us! She said that she couldn't even talk to Erin before hand because she didn't want to risk slipping up and Erin finding out about the proposal. The best part was Erin really didn't have any idea and was absolutely shocked with I asked her to marry me. Actually, now that I think about it, I don't think she really believed me for the the first 20 seconds. But in the end she said yes and Taylor and Mike did a wonderful job taking the photos and giving up something to remember for the rest of our lives."
•
Erin: "It was surprising, unexpected, and amazing. I had no idea it was coming! I felt pretty stupid having walked out on a cliff in high heeled boots for what I thought was going to be a "landscape photo"! I also remember thinking to myself "this would be the perfect place to get engaged". Apparently Zach had that same thought!!"
What are you most excited about for your wedding day?
Zach: "I would say I'm most excited about spending the day with the people that Erin and I love the most in our lives. I've never been in a spot were everyone I love is in one place at one time and I'm sure that's going to be an amazing experience. Also, being able to solidify our love for one another and gain another wonderful family is something that means everything to me."
•
Erin: "The thing I am most excited about is being able to celebrate with our families and best friends. They have all gone on this wonderful, and at times difficult, journey. They have seen us at our worse and our best and to know how happy they are for us means the world!"
If you could pick one word to describe your favorite quirk about the other, what would it be and why?
Zach: "Adorable. When Erin gets really excited about something, she makes this adorable face which makes me extremely happy inside to know that I've done something that has absolutely made her day."
•
Erin: "Endearing. Everything about this particular quirk that Zach has is just charming! It rarely comes out and when it does I can tell he is slightly nervous. He is always so confident and collected while I am the more sensitive one, so I enjoy occasionally seeing this side!"
View more of our destination proposal photography here: https://taylorjonesphotography.com/san-diego-sunset-cliffs-engagement-proposal/