THE TAYLOR JONES EXPERIENCE
Learn how to transform your love of photography in 8-weeks into a thriving business,with the life of your choosing, the income you deserve, and the freedom you crave.
You've been wanting to start your photography business for quite some time now.
You've cherry picked all the images. You're shooting for free. You've daydreamed of quitting your 9-5 to work for yourself with freedom and outrageously loyal clients.
You've fantasized about the income you could make if you just started. But the thought of starting a business makes you physically nauseous.
8-WEEK PHOTOGRAPHERS GROUP COACHING AND ONLINE COURSE
Wearing all the hats, working your 9-5, wondering if in another life you would have bit the bullet and just launched your business. I see your fears, I know that imposter syndrome troll that shows up. I know you're sifting through all your images and wondering if in just another year you'll be "good enough" for this.
I feel your pain when you look at other photographers and wonder how they make it look so "easy". I know you think there isn't room for you. But I'm here to shut that down real fast and say…
You are truly made for this.
It's time to stop ignoring that little voice, wishing you could make a different life for yourself, and turn your photos into a thriving livelihood of your choosing! Maybe your goal isn't to make six-figures, but maybe you want to replace your current income doing something you are truly passionate about. Maybe it's about having the freedom to travel when and where you want to. Maybe it's simply about being home to raise your babies, while still pursuing something you absolutely love. Whatever your reason, I'm here to support you and help you get there!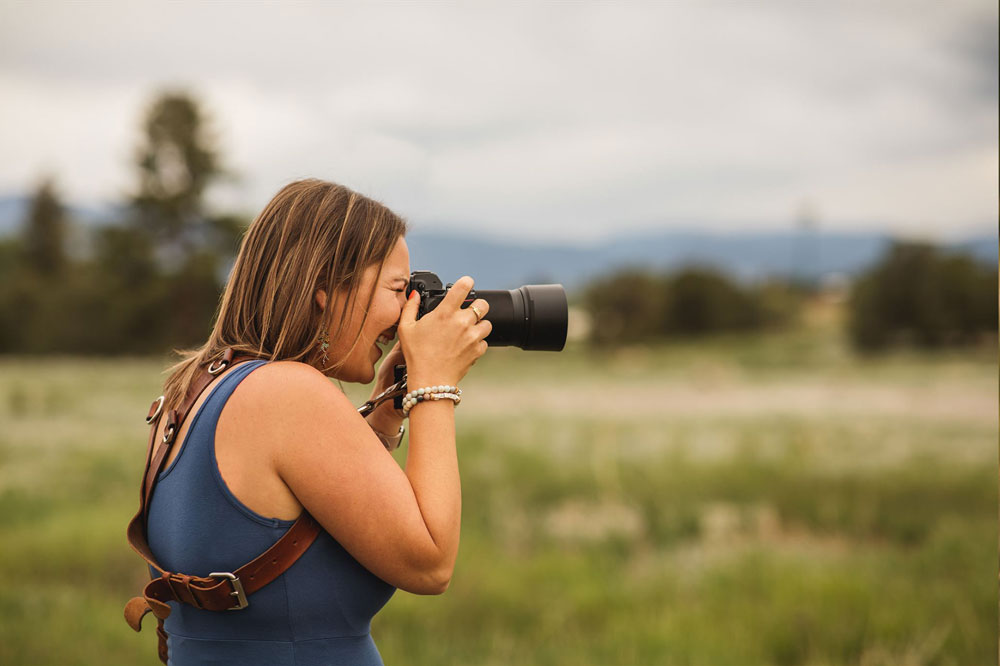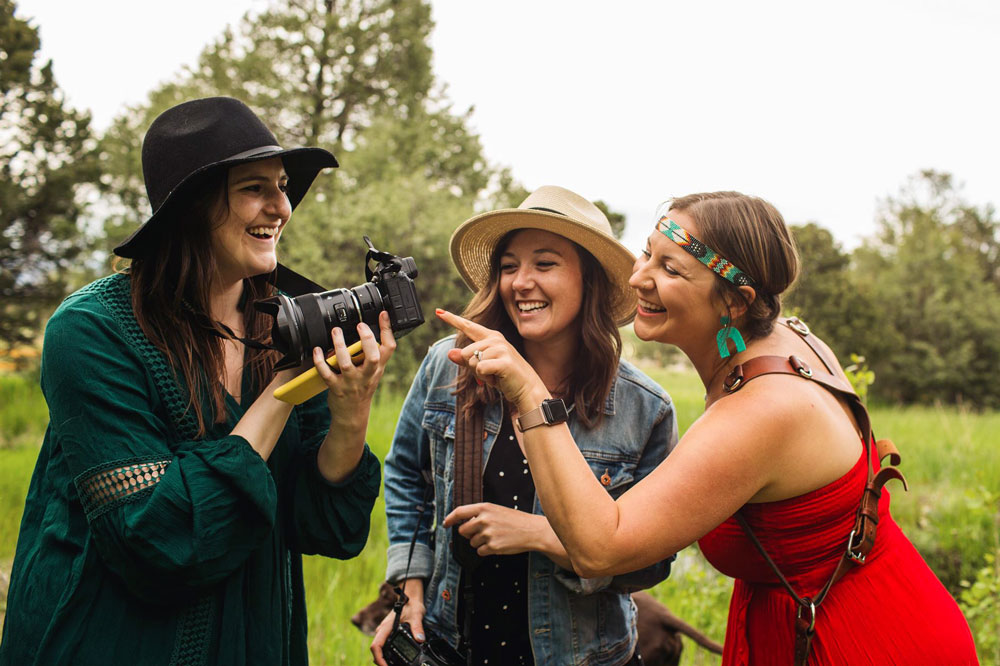 Regardless of how "perfected" you think your gallery is, Launch to Livelihood was created for you! Inside my 8-week group coaching course, you will:
Leverage your unique strengths and learn how to stand out in a saturated market

Follow the exact steps you need to take to launch your six-figure photography business in less than 2 months

Obtain an intimate understanding of your niche market and how to find them

Create your unforgettable client experience that results in referrals and more bookings

Learn how to magnetically attract your dream clients through authentic marketing

Design your show stopping website that works for you and books your calendar with your dream clients

Craft your unique brand identity (ie: you're leaving this shindig with an actual brand!)

Adopt the exact strategies I use to fully book my calendar every single year
I can't wait to have you here!
Imagine discovering and leveraging  your unique strengths  to stand out in a saturated market.
What if you had an exact step-by-step roadmap to launch your six-figure photography business in less than 2 months?
What would it mean if you knew how to magnetically attract your dream clients through authentic marketing?
How different you would feel to build the most unique and authentic brand experience that resulted in referrals and more bookings?
What would if feel like to have your very own show-stopping website that works for you and books your calendar with your dream clients?
How much confidence would you have if you crafted your very own, beautiful brand identity that reflected your unique business?
8-WEEK PHOTOGRAPHERS GROUP COACHING AND ONLINE COURSE
I believe we each have a calling in life; an irresistible tug that never seems to subside, no matter how much we try to ignore it or how busy we find ourselves each day.
I believe you were meant to listen to that little voice.
I believe the world deserves to experience it.
And I believe my calling is to help you get there.
I'm Taylor. I'm a photographer, educator, and business coach. I'm also a wife, a proud mama to two little boys, and I spend my mornings sipping coffee with eight alpacas outside my back door. But no matter how I attempt to define myself, one of the greatest joys in my life is helping fellow women define and discover themselves, and to help guide their photographic calling in life. 
For the past decade, I've had the honor of spending thousands of hours behind the camera, capturing love stories, photographing miracles, and witnessing genuine happiness. Leaving behind a corporate career, this calling in life has allowed me to live the life of my choosing. It has given me the freedom to provide for my family while giving me the time to be present with them. To get paid to travel the world. To work when I want. To spend time outdoors. To practice yoga. To watch my boys grow. To embrace this life.
I'm here to to help you live the life of your own choosing.
A little teaser OF WHAT YOU WILL gain FROM THIS COURSE…
Learn how to stand out in a saturated market by leveraging your unique gifts outside of the camera
Launch your thriving photography business in under 2 months with my detailed roadmap
Confidently master the ins and outs of authentic marketing with a clear picture of your niche
Establish your indelible brand experience that results in referrals, rave reviews, and a loyal clients
Fill your calendar with dream clients with your show-stopping website that works for you
Leave our time together with a beautifully crafted brand identity, logo, and unique style
Taking the leap towards your calling can feel overwhelming.
I hear you, girl. I've been there. When I quit my corporate career, I had less than $300 in my savings account, an empty fridge, a tiny apartment, and a huge amount of anxiety. In my heart, I knew it was the right decision. But that did little to ease the terror in my mind. Truth be told, I launched my photography career completely blind. No clients, no website, and no plan. And I learned a lot of lessons along the way.
Now my wish is to share those lessons with you.
The Launch to Livelihood course is specifically designed to transform those feelings of uncertainty and fear into feelings of empowerment. To provide you with the knowledge and the unexpected secrets that will give you complete confidence in the journey you're embarking on. To take the salary you may be leaving behind and replace it with an even higher income doing what you love.
I'm here to teach you what I've learned from shooting more than 300 weddings, thousands of portrait sessions, and making an annual six-figure living within three years of launching. I'm going to show you the path to achieve not only financial success and abundance, but to find genuine fulfillment in turning your love for photography into a livelihood that allows you to live life on your terms. And I'm going to teach you how to do it in a way that's completely authentic to you, and you alone.
I believe the time to start is now. And I believe in you.
"Taylor is the most authentic, genuine, and wonderful person. She is setting the standard for how we should treat one another, run legit businesses, how to treat our clients, and is making the world a better place because of that."
"Thank you for being a wonderful role model for me and helping put well trained and supportive photographers out into the photographer community. (Yes, I'm crying while writing this). Thank you for sharing all of your knowledge and being super accessible to answer all of our questions."
-Kelsey, Forevergreen Photography
Kelsey is a Colorado native who had a passion for family photography. She joined the Launch to Livelihood course without any ideas as to what her business would look like or what her plan was. 
During her time in the L2L course, Kelsey discovered her love for newborn photography, developed her beautiful branding, launched her website, got clear on her dream client and how to serve them, and has since invested in more education and coaching to learn how to best grown her business.
The first steps in our journey together will be dedicated to discovery. Discovering your strengths, your priorities, your values, what makes you tick, and what brings you joy. Together, we'll translate these discoveries into your business in order to hone in on your ideal client who shares similar attributes and values.
This will arguably be the most challenging but defining section as it revolves around self-discovery and the critical role it will play in your business. We will talk about the hard topics, invite others in, and dig deep to create a solid foundation that you're proud to build your business on.
Discovering your "why" will provide you with a reliable compass to turn to when you encounter the challenging decisions and the defining moments involved with your business.
Building on the foundation we laid in the discovery section, our emphasis on design will go far beyond the actual look of your business. While your business's brand identity, marketing materials, and website design are each critical in their own rights, they're only one of the several pillars we will cover in this chapter.
Design encompasses not only the look of your business, but the feel. What is your client experience like? How will your ideal clients find you based on the design of your business? How will you convey what your core values are in each element of your business?
Why will people come back to you for years to support your business? How does your financial plan come into play for your photography pricing? Furthermore, what does the design of your own dream life look like and how does your business fit into it?
Together, based on your ideal client, we'll design an inviting space on your website to encourage engagement and bookings from your ideal client. This lesson will be one of the most important as it is the invitation to your clients into the "living room" of your business.
In our modern world, marketing is becoming both easier and harder simultaneously. It's easier because you simply need to show up and be yourself; it's harder because you simply need to show up and be yourself. People don't hire businesses anymore; they hire people. Here we will also dive into the power of social media and leveraging everything we've worked on up to this point in order to convey that in your brand.  I'll teach you the most critical lessons and actionable steps involved in turning your followers into loyal and paying clients.
It's here that we will also work to reveal your story and beautifully weave it with your talent in order to ensure you're working with the clients that are going to inspire you to grow.
As we progress, we'll dive into how to handle your workflow so you can focus on shooting and creating stunning images, and immerse ourselves into the actual execution of marketing and social media strategies, the role of your branding in your business, and the details of your client experience.
Your relentless drive, careful nurturing, and unbridled passion will fuel your business to places you've never imagined. Our final weeks will be focused on growth and setting your business up for sustainable and fulfilling success.
We'll cover the importance of goal setting, habit development, and setting your intentions for your business and financial growth. We will zero in on the importance of implementing tools for exponential growth, and we'll discuss ways you can set yourself up for sustainable success and financial freedom by transforming your client experience.
When our coaching time is finished, rest assured that you'll never be in this business alone. I'll continue to be your personal cheerleader, celebrating in your wins and supporting you in your trials and tribulations long after our Launch to Livelihood course has completed.
What exactly is included in the Launch to Livelihood course?
Weekly Video content
Each lesson will have recorded videos that you can watch and rewatch at anytime, along with corresponding downloadable content to help guide your growth
Live Coaching Calls
For those in the coaching group, we will have weekly live calls that offer the opportunity to ask me any questions, brainstorm for your specific business, and to hear from the other incredible women in the group
Challenges
You'll be ready to craft your own unique version of our lessons with fun challenges that give you confidence and a fire to get creative
Guest Speakers
We bring in professionals from all realms of the business world to share their expertise that will set you up for success
Worksheets
Here's our chance to take what we've discussed and really dive into each topic with actionable steps, clear goal setting, checklists, and more
Downloadable Resources
Filled with bonus content, these downloadable PDFs will provide you with templates to inspire you to execute on several cornerstones of your business
Done for you templates
Let's face it...you've got a lot to think about when it comes to launching your business! I'm going to take some of the workload off with templates for marketing materials such as your pricing and welcome guide, social media graphics, and e-mail templates
"I can't say this enough, but Tay, you literally changed my life! Instead of being afraid of creating a business that I didn't think anyone would ever use, I am now so excited and optimistic for the future!"
"I was a little nervous, even scared. I didn't know if this would help me, if I would actually get anything out of it, especially a business. I would not have actually committed to making this business without you. For the first time, I'm excited to work on my business and am going to do everything possible to make it happen. And I'm finally confident about what I'm doing. Thank you!"
-Valerie, Valerie Rae Photography
Having spent her time working for other photographers and going to university for photography, Valerie never thought she'd want to own her own business. But that little voice got louder and louder until she couldn't ignore it anymore. After hearing a podcast interview with Taylor, she joined the Launch to Livelihood course as soon as the doors open!
Valerie knew she loved couples, but the big weddings weren't fulfilling her. In the Launch to Livelihood course she discovered her passion for elopements, rebranded her whole business to serve those clients, built her website, and immediately started shooting her dream clients in her dream locations! She has since furthered her education working with other photographers who specialize in adventure elopements and is thriving in her new business!
The tug at your heart that says, "I need more. I was made for more." The feeling you get when you pick up your camera and something triggers you to tell a story. You are a storyteller at your core, and the little voice inside of you will not remain quiet any longer.
You're here because you're ready to live your life on your terms, to create because you need to create, and to give back to the world in a truly beautiful way.
Are you ready to leave your corporate job behind and pursue a career that brings fulfillment?
Are you ready to harness the power of authenticity to build a brand that reflects who you truly are? To develop a loyal following of incredible clients who share your values and inspire you to strive for growth?
Are you ready to set your own schedule? To work when you want to, and play when you want to? Are you ready to wake up each morning eager for the day?
Are you ready to replace your current salary with even more income doing exactly what you love to do?
Are you ready to transform your passion for photography into a livelihood you're proud of?
I'm ready to HELP MAKE IT HAPPEN!
JUST A TASTE OF WHAT YOU WILL TAKE FROM THIS COURSE…
Leverage your unique strengths and confidently learn how to stand out in a saturated market
Follow the exact steps to take to launch your photography business in less than 2 months
Learn the ins and outs of authentic marketing by obtaining an intimate understanding of your niche
Define pricing and create your unforgettable client experience that results in referrals
Design a show-stopping website that works for you and fills your calendar with dream clients
Craft your unique brand identity, including your logo, marketing materials, and pricing
Let's cover the important stuff… like how we might be meant to be BFF's if you're this far down.
APPLY
I want to make sure I'm your gal–the one who is sincerely meant to walk you through this exponential growth in your business! Fill out the application by clicking on this bubble so I can see where you're at and where you want to go with your business.
DISCOVERY CALL
When I say low pressure, I mean LOWWWW pressure. This 30-minute call will give us a chance to get to know each other and make sure we get all the feels about the prospect of working together. I'm happy to answer all your questions about the course and what this 8-week live coaching program looks like. 
JOIN THE PARTY
Once you've been accepted into the Launch to Livelihood program, you'll receive a link to make your payment and lock in your spot to epic places! Our time together begins August 1, 2022 so get yourself a pretty journal, a new sweet pen, and a lot of your favorite drink in preparation for our time together!
15-WEEK COURSE WITH LIVE GROUP COACHING
AUGUST 1, 2022 UNTIL NOVEMBER 14, 2022
"You start out as a calm stream in the beginning, and by the end you are a raging rapid ready to go out into the world of photography with more confidence in yourself and in your business than you ever imagined."
"This course is the 90% of the workload that nobody wants to talk about. She develops her lessons and teachings and homework into such an intricate system that you won't even realize until halfway through why she started with what she did."
-Danielle, Child of Wild Photography
TOGETHER, WE WILL MOVE MOUNTAINS.
Get ready for great things. This is happening.
Your coach. Your cheerleader. Your friend.
Colorado Husband and Wife Wedding Photographers
Salida | Buena Vista | Leadville | Crested Butte | Breckenridge | Vail | Aspen | Ouray | Telluride
© Copyright 2021 | Taylor Jones Photography, LLC