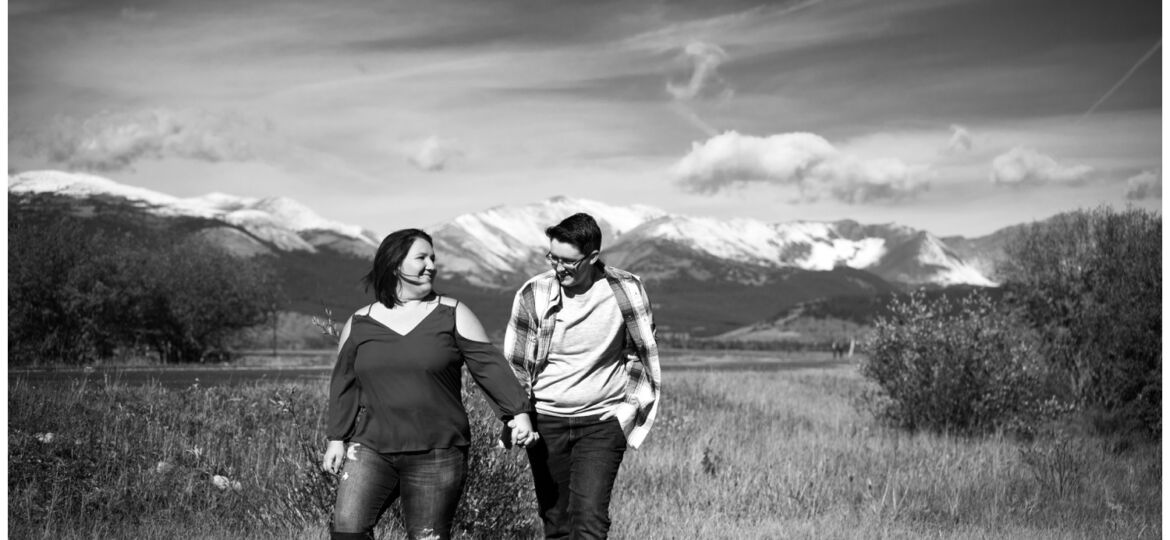 Kenosha Pass Fall Colorado Engagement Shoot with Sarah and Riley
We're so excited to share Sarah and Riley's engagement shoot with y'all for so many reasons! First, their amazing story of how they met, got engaged, and their big plans for their wedding day next year are simply heartwarming. Second, their Kenosha Pass engagement shoot this past fall is an iconic time and place for Coloradans. And lastly, we are so thrilled to get to be apart of their wedding day next year because of their love for each other, sincere connection, and obviously, because they just bought an RV and plan to rule the world in it! We are so excited for you both, Sarah and Riley, and are honored to be apart of this time with you! Thank you so much for having us capture these memories. We can't wait until your wedding day!
Love,
Mike and Tay
How did the two of you meet?
 "We were both working at a Girl Scout summer camp right off the Hood Canal in Washington! Sarah was a counselor for the older girls and Riley was a counselor for the younger girls. We were instantly inseparable and have been ever since!"
Tell us about your first date!
"Because we were camp counselors the summer we met our first date was pretty quirky! We were on a 24 hour break from having campers and were we able to borrow a friends car to run errands. We decided to make a night out of it with just the two of us! So, obviously we started with a Target run to get all the essentials. We then decided to get Chinese food for dinner – sounds simple enough. We picked the first place that came up on GPS and headed that way. The reviews were a little concerning with stuff like, "Our food never arrived." We figured since we were picking up it would be fine! Not the case. When we arrived at the destination…..it was just a dead end street that led to a random house! Instantly creeped out we turned around and tailed it the other direction. I guess we know why those people never received their food!"
What has been the most fun part of wedding planning for you?
"Getting to plan a wedding/weekend summer camp/family reunion all in one! We're having a three day retreat at a local summer camp for all our friends and family. One day just wasn't enough to celebrate! The greatest wedding gift is getting to spend all weekend with all our friends and family in one place!"
What are you most looking forward to on your wedding day?
Riley: "Getting to show all our friends and family a beautiful place that means so much to us!"
Sarah: "I can't wait to share a beautiful weekend in the mountains with all the people I love and cherish! I'm excited to celebrate marrying my best friend and bringing all out people together for that occasion."
Tell us your proposal story!
"Actually, we had two proposals! Riley proposed to Sarah in February of 2017 spontaneously at home in our kitchen! She had gotten Sarah's engagement ring that morning and decided not to wait. The conversation went a little like, "I got something for you today…" And then BAM – engaged! Sarah proposed to Riley a few months later with a sort of scavenger hunt. She gave her a clue that led to one of their favorite books which had passages that reminded her of Riley highlighted inside. On the front cover there was a cypher which when decrypted read, "Will you marry me?"
If you could pick one word to describe your favorite quirk about the other, what would it be?
 Riley: "It's not one word but my favorite thing about Sarah is that she's a challenge seeker! Whether it's taking camping in Yellowstone, exploring Europe, or moving into an RV full time (we just bought ours!) she's my partner in all of those adventures and always up for the challenge."
Sarah: "One word that comes to mind for Riley is budget. Which sounds kind of weird and not very romantic but stay with me. She's very fiscally minded and when we moved in together she built this massive, amazing budget to keep us on track towards our goals. She's very serious about it and I often get texts reminded me to track purchases. It's one of my favorite things about her because I know it's her way or showing how much she cares and enabling both of us to have the freedom to do the things we love to do together! Like take two weeks off to travel or move into an RV full time!"