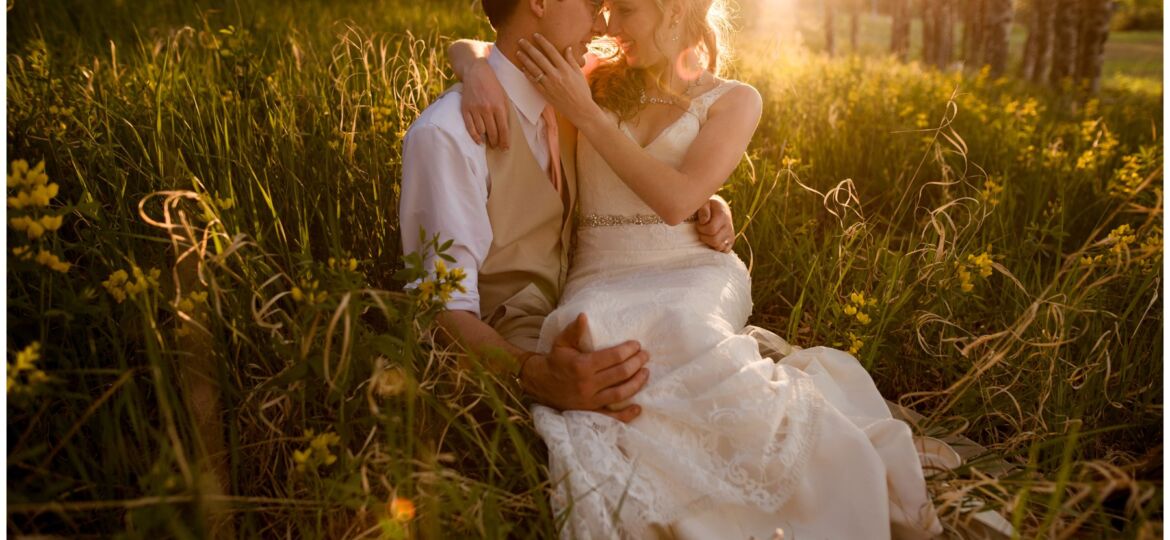 Evergreen Red Barn Wedding
Evan and Anna's Evergreen Red Barn Wedding
Ten years. That's how long these two amazing people have known each other. It's rare that we meet couples who met in high school and started their love story in chemistry class, but for Anna and Evan, this was totally the case. The first time we heard their story, we were so intrigued and knew we wanted to be apart of their fantastic Evergreen Red Barn Wedding. From reading their vows in private, to brewing their own beer (these two LOVE beer), to having Evan's older brother marry them, their wedding day was totally custom to everything and everyone they love. We're so amped to share this beautiful wedding day with you guys. Congratulations, Mr. & Mrs. Johnson!
Cheers,
Mike and Tay
Evan, how did you propose?
"While on a weekend trip to Glenwood Springs, I told Anna there was a geocache on a scenic overlook by Dillon Dam we were passing on I-70 between Dillon and Frisco. While we were parked there and Anna was looking for the geocache (that didn't exist) I called her over saying something was wrong with my car trunk and it looked like it was popping open. I had told her that morning that we had to put our luggage in the back seat because the trunk was jammed. She came over and opened the trunk which I had filled with her favorite flowers, lilies. (It is important to note that we spent hours in high school sitting in her open trunk talking.) While she distracted by this, I got down on one knee with the ring."
Tell us about your first date!
"Well, since we were best friends for three years before officially dating, it is hard to pin-point a specific first date. Our best guess is going to see Pineapple Express in theatres. We weren't 17 yet, so Anna's mom had to buy our tickets!"
How did you guys choose the Evergreen Red Barn Wedding for your venue?
"We knew from the beginning that we wanted Evan to brew the beer for the wedding, so we had to find a venue that would allow us to bring in our own alcohol. There aren't a whole lot of venues out there that allow this (and we looked in both Colorado and New Mexico.) The Evergreen Red Barn was perfect for us because not only could we bring our own beer, but it was perfect for the early summer, laid-back, mountain wedding we were aiming for. It was conveniently located less than an hour from our home in Castle Rock, yet it felt like we were deep in the Rockies."
Tell us about your first look and your private vows you read to each other.
"We would definitely do it again! We really felt like we could be completely honest with our words and emotions without the pressure of public speaking or worrying that people would find our vows cheesy or cliche. It was so special to share that time before the ceremony together in a place of calm before all the craziness that a wedding is."
Are you going on a honeymoon?
"We went on our honeymoon to Paris and Belgium. We only spent a couple of days in Paris, but we traveled all over Belgium to enjoy all the amazing Belgian beer, which is our favorite!"
What was the most fun part of planning your Evergreen Red Barn Wedding?
"Anna really enjoyed all the creative details like writing the beer signs and deciding on the elements of the centerpieces. Evan most enjoyed coming up with what beers to brew and then actually brewing them."
What was your most memorable moment from your wedding day?
"We both agreed that the first look was most memorable for us. It was probably the most uninterrupted time we got to spend together all day!"
What are you most looking forward to in marriage?
"We are looking forward to continuing the journey we started over ten years ago! We look forward to adventure and family and companionship."
If you could pick one word to describe your wedding ceremony, what would it be?
"Can we pick two? Simple and sweet. A friend described it as so, "us."
What advice do you have for couples planning their wedding now?
"Even when you go into the whole planning process saying you vow to not get stressed, it will happen, at least to some degree. The part of the stress you have control over is WHAT you choose to be stressed about. Ignore what other people or wedding websites/magazines tell you to care about and decide for yourself. For example, we spent a lot of time coming up with creative names for the beers Evan brewed and had fun writing up the descriptions of the beers and the stories behind their names. When it came to the catering, we knew we wanted enchiladas because we like New Mexican food. The first place we tried, we liked, so we booked it. Done. Your priorities should be your own."
Evergreen Red Barn Wedding Vendors
Wedding Website: The Knot
Venue: Evergreen Red Barn
Caterer: Little Anita's
Cake: Vivian's Gourmet
Cake topper: Leanna Arroyo, Beartree Pottery
Flowers: Fleur de Liz
Hair & Makeup: Kim J Beauty
Wedding Dress: Little White Dress (Amy Kuschel Bridal Collection, "Malibu")
Suit: Men's Wearhouse
Bridemaid's dresses: David's Bridal
DJ/Photobooth: Quality Mobile Sound
Bartender: Hey Bartender
Officiant: Tyler Johnson (Grooms brother)