Daniel + Brittany Hallau | Denver Colorado Winter Wedding Photographer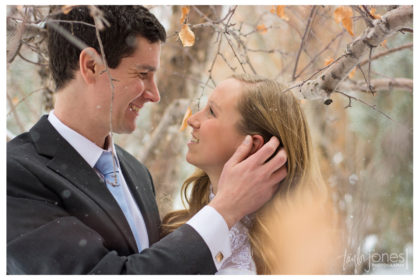 When a couple plans their wedding for a wintery Rocky Mountain January, it's pretty safe to assume that they're snow bunnies. For Brittany and Dan, that was definitely the case and more! They met through friends and their avid love of skiing. Trips to the mountains turned into car-pooling to the mountains, which turned into (*GASP*) skipping a trip to the mountains just to spend some time together. Eventually, all these ski trips and adventures turned into Dan surprising Brittany with a beautiful proposal while she was on Ski Patrol in Loveland (ironic, I think not…)
Their sweet attention to every single detail of their wedding brought tears to my eyes on more than one occasion. Brittany wore her mama's wedding dress, and even her veil for a few photos! Dan made his boutonnieres and they got married at Terrace Gardens at Dove Valley, where Brittany's father is the owner. Every moment, detail, and element of their wedding was full of emotion and true bliss. Mr. & Mrs. Hallau, thank you so much for having us be a part of your absolutely wonderful wedding and congratulations!
Cheers,
Mike & Taylor
Dan + Brittany's First Look Interview
What are your thoughts about your experience with the first look?
We both are really happy we did the first look! It was really nice to have our special first look moment be more low-key than if it had been during the ceremony, and it was so nice to be able to just feel natural and have a little time together enjoying the moment without having everyone watching us or feeling like we had to do anything at all in particular at that moment. We could just be together and enjoy the moment and all the excitement and emotion of our special day.
How do you feel it changed, if at all, your walk down the aisle?
I think it made me more relaxed walking down the aisle. There was already so much emotion going on during both moments (the first look and the walk down the aisle) I think it would have been overwhelming to put the two together. It didn't make the walk down the aisle any less special at all for me. I think I would have cried too much if it had all been together, and then I might have not enjoyed the moment as much since I would have been trying to not cry so much with everyone watching.
Did your family conflict with your decision to do a first look?
They didn't really object to it much–honestly I can't remember too much about that. I think they liked the idea of being able to do most of the photos before the ceremony, and they agreed that it was a great way to be able to enjoy more of the wedding with our guests.
What made it special?
It was so special to walk up to Dan before our wedding and have our first moment together be a really natural moment. I remember the excitement of walking up to him, enjoying my train swishing behind me, and being so excited for him to see me in my dress on our wedding day. It was perfect just to be able to have a bit of time together to hug, kiss, and tell each other how happy we were that it was our wedding day. And then it was really fun to spend some time getting some fun shots of the two of us outside before everything started to get crazy. It was a nice and relaxing way to start our wedding, and it was also really romantic just enjoying that moment together with each other.
Do you feel it made a difference in your photos?
Yes I think it made the photos more fun and relaxed. If we would have waited until after the ceremony to get all the shots of us together, I think we would have felt rushed, since we also would have wanted to go spend time with our guests. The photos turned out wonderful, and I think it definitely helped that we didn't feel like we had to rush. It made the photo-taking experience a really fun part of the wedding day, instead of feeling like it was something we knew we wanted to do but didn't have time to fit everything in. I think we probably got more wonderful shots of the two of us and us with our families and bridal party because we were able to do them before the ceremony.
If you had to do it all over again, would you?
YES! Definitely. From the relaxed and romantic feel, to the logistical bonus of being able to do lots of photos before the ceremony, it was great idea and great experience!
What was the single most memorable moment of your first look?
I really remember reaching up to tap Dan on the shoulder, and then being so excited when he turned around and smiled and then we were both crying and hugging and kissing. And I remember twirling around to show him my dress!
Aside from the first look, do you feel like you had much time to yourselves on your wedding day?
We did have some time just to ourselves, but not a ton. We did go with the "sweetheart" table at dinner, which gave us some time just the two of us during dinner, and of course we spent time dancing together 🙂 , but it all went so fast and there was not a ton of time just the two of us. The first look and the nice time spent doing our couples photos were a really great part of our wedding day time together!