Once in a blue moon, a couple we meet will book us before they even have their date, venue, or town for their wedding picked out. For Brandee and Austen, this was totally the case! We were so excited to get to be a part of their wedding planning process. Since this sweet couple was not only planning an out of state wedding in Breckenridge, Colorado, they were also planning to move back to Colorado and start med school in the same week! Talk about a crazy couple of days! It was awesome getting to brainstorm wedding ideas, venue locations, and the overall intimate feeling they wanted for their mountain wedding at Windy Point on Lake Dillon. Mr. & Mrs. Anderson, thank you so much for having us be apart of your truly incredible wedding day. We are so excited to have met you and can't wait to see what adventures you embark on in your marriage!
Love,
Mike and Taylor
• How did the two of you meet?
 "We met in graduate school at the University of Northern Colorado in Greeley. We were friends for a year before we started dating but the first time we met was at a Friday Fest concert in downtown Greeley where I saw Austen dancing (we affectionately call it "noodling") in the street."
• Austen, how did you propose?
 "Normally Austen would write this, but since he just started medical school he's little busy right now so I'll take the liberty… Austen's proposal was perfect. I had just moved all of our stuff up to Jackson Hole, WY (where Austen was already living and where I was moving to be with him) and we were back in Colorado for a few days because we both were flying out of DIA soon (Austen was going home to visit his brand new niece! and I was about to fly to Hawaii for work). We were in Breckenridge under the pretense that Austen's sister and brother-in-law were in town for their anniversary and we were going to meet up with them, but before they got into town we decided to go on a hike to Mohawk Lakes. We hiked to lower Mohawk Lake and then decided to go to upper Mohawk Lake. When we got up to upper Mohawk Lake Austen spotted a marmot (my spirit animal – because, I too, am chubby and like to bark at people) and gave me his binoculars to try and spot the critter. I looked and looked and looked but couldn't spot this stupid marmot (to this day I think Austen might have made it up but he's adamant that he didn't). I slowly put down the binoculars and started to turn to Austen. That's when I realized he was down on one knee!! (And apparently had been for some time…whoopsies!) And then he asked me to be his adventure buddy for life and I said yes. Afterwards we went fishing (and by fishing I mean Austen fished and I stared at the beautiful ring he had given me as symbol of our unending love for each other) and Austen caught a HUGE fish. After our "hike" there was a surprise engagement party with my sisters and Austen's sister and brother-in-law and cousins. It really was perfect."
• Tell us about your first date!
 "Austen managed to lure me out of the lab for our first official date with two irresistible things: puppies and donuts! Austen and I munched on donuts and drove down to Colorado Springs to play with the sweetest bunch of German Shepherd puppies you've ever met. Needless to say, I was anxious to lock this guy down ASAP."
• What was your most memorable moment from your wedding day?
"The day was such a blur! But really the most memorable part of the day (or at least the wedding) for me was when our pastor was reciting Corinthians 13. Austen's best man was his father so he was standing just behind Austen. As our pastor was reciting Corinthians both Austen and his dad were mouthing the words together as he read. Neither Austen nor his dad knew the other one was also mouthing the verse. It was a very sweet and special moment for me to see right before we said our vows."
• How did you guys choose Windy Point in Breckenridge, Colorado for your wedding venue?
 "Austen and I have spent a lot of time in Breckenridge together and because it's such a special place to us we wanted to get married there. Windy Point was an ideal fit for us for a number of reasons but we especially liked it because it's such a beautiful, intimate, outdoor space."
• What was the most fun part of wedding planning for you?
 "One of my favorite parts was going to Breckenridge to look at venues. We set up a tour of venues with the Breckenridge tourism office and they were great! After our tour, our guide took us out to eat and bought us a drink – we felt very spoiled. I also really enjoyed getting to taste test wine and cupcakes. I think one of Austen's favorite parts was choosing a band. All he wanted for our wedding was a funk band and my-oh-my did he pick a good one!"
• What are you most looking forward to in marriage?
 Brandee: "Not planning a wedding! and having my adventure buddy for life." 🙂
• If you could pick one word to describe your wedding ceremony, what would it be?
 "Direct quote from Austen when I asked him to sum up our ceremony in one word: "Excellent, urm no, lovely. Wait, maybe say perfect."
• What advice do you have for couples planning their wedding now?
 "Just remember, what happens after the wedding is more important than the wedding itself, it's the marriage that matters (advice from my mom)!"
• Are you going on a honeymoon? If so, where are you going?
 "Because Austen started medical school two days after our wedding (!) we're postponing our honeymoon until his winter break. Nothing's been decided yet but we're imagining some place tropical with unlimited adult beverages…"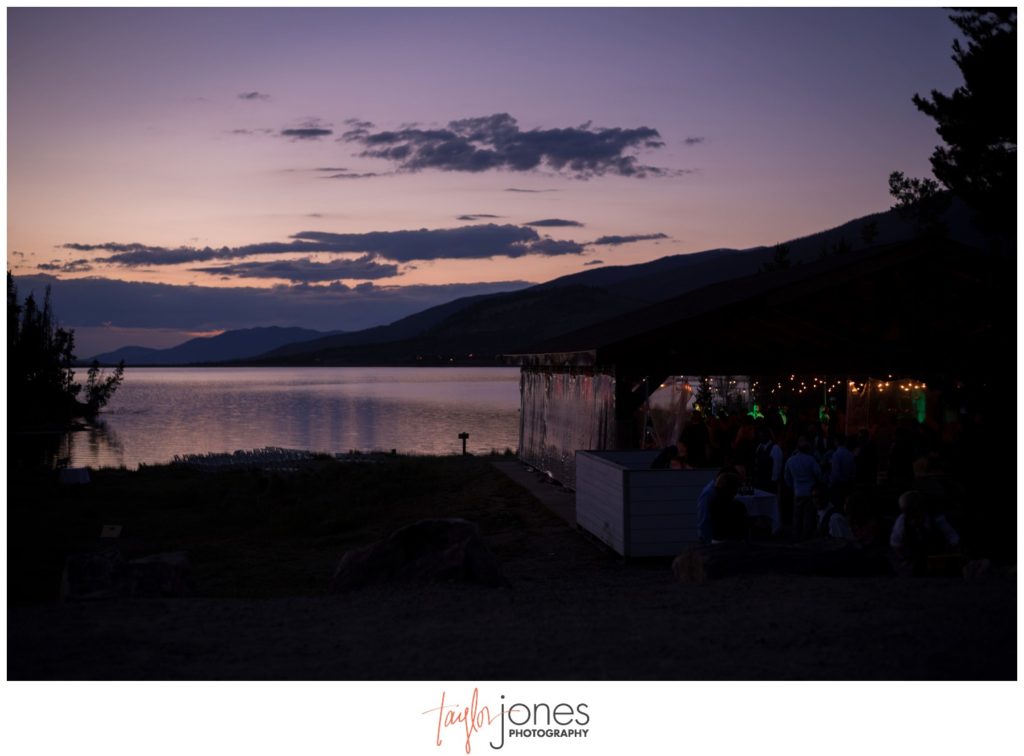 VENDORS
Band : Wash Park Funk Band
Catering : Moe's Original BBQ
Centerpiece Flowers : Petal and Bean
Personal Flowers / Cupcakes : City Market
Rental : Colorado Tents and Events
Venue : Windy Point Campground
Wedding Planner : Piece of Cake Wedding and Events