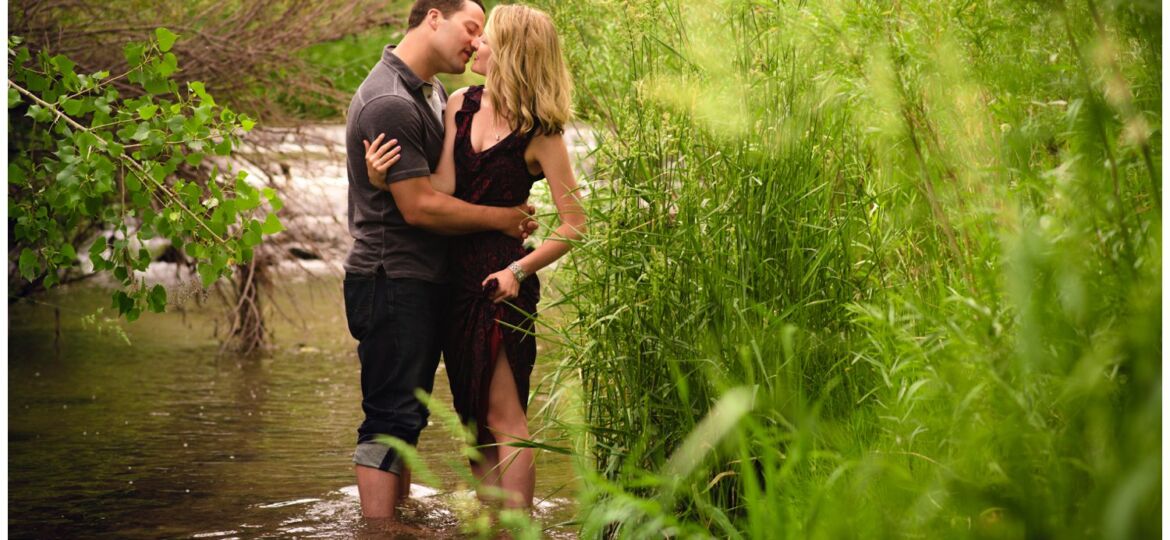 Meeting our couples for the first time at their engagement shoot is always an exciting and nervous time. However, from the second Allison and Matt got out of their car, I knew we were meant to be a part of each others lives during this time! We immediately hit it off while we chatted about fishing, first time home buying, wedding planning, and their love story. Their ease in front of the camera and undeniable connection to each other was refreshing and relaxing to witness behind the lens. As a photographer, no one tells you that your job is easiest when a couple truly loves each other and has a sincere connection. These two nailed it and their happiness eeeks out of their engagement images! Allison and Matt, thank you so much for having us be a part of this awesome time for y'all! We can't wait for your fall wedding later this year.
Cheers,
Taylor
• How did the two of you meet?
 "At the time, Allison was moonlighting as a waitress at a local bar. She waited on Matt and a group of his friends, Matt tried to make pleasant small talk throughout the night but Allison mostly ignored him. He left his phone number on his credit card receipt at the end of the night, and Allison decided to connect with him the next day. The rest is history!"
• Matt, how did you propose?
 " We were on our way to ski at Keystone, Matt decided we simply HAD TO STOP along Loveland Pass to see the terrific views. It was frigid, windy, snow blowing everywhere. We were along our walk, no one else was around, and Matt got down on one knee and asked! Allison remembers her tears of happiness freezing instantly on her face!"
• Tell us about your first date!
"We went to Hanson's in Washington Park. We've been back on each date-a-versary since then!"
• What has been the most fun part of wedding planning for you?
 "All the craft projects!!! Allison loves a good DIY moment, you'll see a lot of handcrafted touches at our wedding!"
• What's a fun quirk you love about the other?
 "We enjoy experiencing one another's hobbies, which are sometimes out of our usual comfort zones. Allison has been on a boat in the wilderness to catch fish with Matt, and Matt has been to numerous plays and musicals with Allison. We like to think we complement each other nicely!"
• What are you most looking forward to on your wedding day?
 "Having everyone we love in the same room to celebrate with us!"