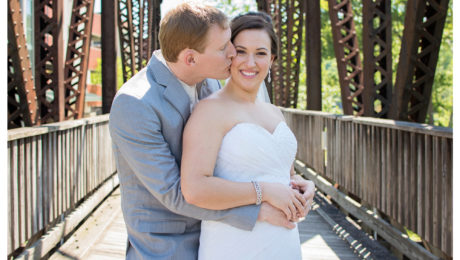 When I decided to pursue my passion as a photographer, all I wanted was for people to like me and my work (let's face it, that's still true). Most of the couples we work with have heard about us from a friend or found us online. However, the day one of my dearest and oldest friends called and said she wanted me at her wedding, I was elated. You see, having the support from friends who cherish you and your work takes how you view yourself as a business woman to a whole new level. Kelly and Ben took me very seriously, which made me look at myself and my business in a totally new way.
Now, from the first time I met Ben and saw how he and Kelly interacted together, I think our entire group of friends knew they were meant to be. While both of them have an awesome sense of humor, Ben took Kelly's goofiness and other amazing qualities to an entirely new realm. He compliments her in so many ways that our group of friends had never seen in any other relationship we had witnessed. Likewise for Ben, Kelly compliments him and brings out his awesome and unique traits on a regular basis. Their never ending slew of inside jokes, exchange of hilarious facial expressions, and trust in each other set the bar for the rest of the relationships in their life.
Kelly and Ben, I can't thank you enough for trusting me and allowing me to play a role in the happiest day of your lives. You are truly one of the most beautiful, strong, and loving couples I've ever met and I am absolutely thrilled I get to share in just a small part of that. I love you both dearly and am so happy for the journey you've began in your wonderful lives!
Love,
Tay
PS. Thank you for throwing one of the best weddings EVER with some of the best family members and some of the world's best dancers. Only the Dotson's could pull off a wedding that awesome!
Ben + Kelly's First Look Interview
"Ben & I are both so happy we did a first look. The entire experience made the day so much more relaxing & meaningful. Instead of avoiding each other & feeling pressured to keep hidden, it was so special to spend most of the afternoon together as a couple, family, and bridal party. It made waiting for everything to start fun, not stressful.
The first look experience didn't make seeing each other at the alter any less special. If anything, we felt closer and more ready for the moment. And with all our family & friends staring at me as I walked down the aisle, it was hard to focus solely on Ben's face. I'm so happy I got to see the expression on his face up close, not across the room, when he saw me in my dress for the first time. And if I ever forget that look, I have a photo of it!
Fortunately, neither of our families had an opinion about us seeing each other before the ceremony. Frankly, they were pretty happy about the idea of getting all of the pictures (with the exception of a few with rings on) out of the way before the wedding. From a practical standpoint, too, it was great to not feel rushed or like we were being rude to our guests by holding up the entire reception. The only major change to the timeline was how soon we had to get ready, and since we had an evening ceremony it wasn't a big deal. Plus, my make up & hair was still flawless. Our outdoor ceremony was short, but hot, so it was nice to have most photos taken before all of the sweating & kissing (touch-ups can only do so much!)
The best part of the experience was getting to spend so much of the day together, just the two of us (and Taylor). It's true what they say—the entire day absolutely flew by! It was so great being surrounded by family & friends all night, but if we hadn't done the first look, I honestly don't know how much time we would've gotten to just sit back & soak in the fact that it was our wedding day. Having the first look gave us a chance to have a truly private moment, and seeing those pictures remind us of how awesome our wedding day was—not just the formal events, but also the entire day."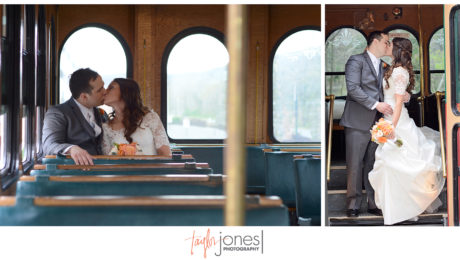 Morgantown, West Virginia | For the first wedding of 2014, I'd have to say I couldn't have chosen a better and more beautiful wedding to kick off the year! Eric and Angela happen to be one of the most lovely couples I've had the pleasure of working with and knowing. From their engagement shoot about a year ago, I knew they were a special and truly wonderful couple. Their love for each other and ability to have fun with one another is undeniable. Thank you to all of your family and friends as well who made this day so fun and perfect for everyone. I am so thankful that I got to be apart of their beautiful spring wedding! Congratulations Mr. & Mrs. Holtzman!