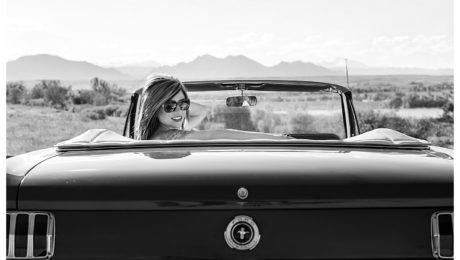 When April and I started chatting about her vision for her business and the images she wanted in order to portray a specific message, I was amped! I love people with passion for what they do. It makes our job easier and exciting. April's passion for her career is unmatched and the journey she's embarking on going to be quite an amazing adventure!
We love you, April, and are so excited to see you making your dreams and vision come true! We can't wait to share more about her journey into her nutrition business, so stay tuned!
Love,
Taylor and Mike
Mustang Owners |
Hair Artist | Brook Ashley Huebner at Bombshell and Beau
Makeup Artist | Josie Ballenger
Some people just make our job easy. Stephanie and Joe are those people. When we first met these two, they immediately displayed what a fun and incredible couple they were (you know, the type we all love). Their coolness in front of the camera and Stephanie's constant giggles made for an awesome shoot at an awesome location (with awesome clouds and an awesome dog with an awesome lake that was just all around awesome). Steph and Joe have been together for 10 years…no, 12––well, there's still a dispute about it, but they're into the double digits––and are finally tying the knot this summer in Breckenridge! From hearing about Joe's proposal to all of the moving they've been doing in the last few years, we had such a blast getting to know these two. At some points, I totally forgot we were there for a photo shoot and just kept talking their ears off. Stephanie and Joe, we are so excited for your big day and are so honored to be a part of it! Thanks for being a genuinely beautiful couple!
Cheers,
Tay