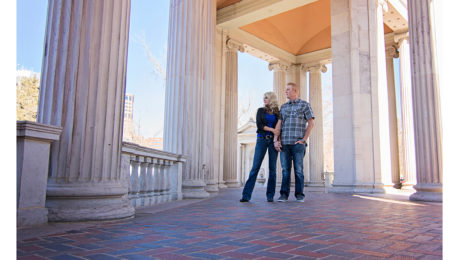 The quote Colorado obtained during last year's spring season, "Go home Colorado, you're drunk", is reigning true again for this spring and seemed to be the theme for the days leading up to Cody and Courtnee's engagement shoot. Courtnee had said she wanted a snowy engagement shoot, but knew full well that trying to plan around the Colorado weather was going to have its challenges. On Sunday, it was 60 and beautiful, Monday was a bit chillier but sunny. Tuesday it snowed ALL day at our house and in the mountains, but was totally clear in Denver. By Wednesday we weren't sure if it was going to be nice with a fresh coat of snow, ugly with mud, or somewhere in middle. Lucky for us, we had the perfect sunny, warm, (and a little bit of snow in Golden) afternoon ahead of us!
We love couples like Courtnee and Cody. When we left their engagement shoot, Mike said, "People like those two are so easy to shoot, not because they were trying to work the camera necessarily, but because they're always laughing and happy. I could snap a photo at any point and know at least one of them was going to be smiling and happy." They truly are. You rarely hear stories about high school sweethearts anymore, but goodness, do we love those stories! Courtnee and Cody fell in love in high school and their deep love for each other shows in the way they talk and interact with each other. We are truly blessed and so honored to get so share this amazing journey with you two and can't wait for your big day!
Cheers,
Taylor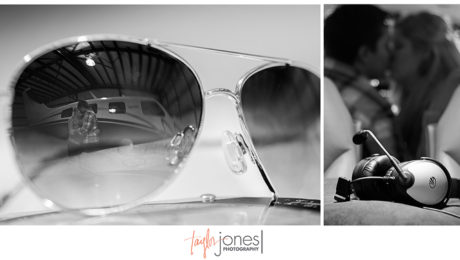 When I was in college, I changed my major about 110 times, finally landing in the international studies field. I wanted to go places and see awesome areas! I never thought my degree would lead to running my own photography business and getting to see some of the coolest places ever! We met Kimberly and Brett over coffee about 2 months ago and when they mentioned shooting their engagement shoot at the Centennial airport, Mike and I were both elated! Through coordinating schedules, sickness, and poor weather conditions, we finally landed a Saturday morning when we were able to get in the hangar's and take some awesome photos at Brett's stomping grounds. Brett recently received his pilot license and after pulling a few strings, was able to get all of us into some of the coolest areas of the airport we'd probably never see otherwise.
Brett and Kim are honestly that couple that just makes my heart so happy. Their love and adoration for each other is undeniable and we are so overwhelmed with joy to get to experience these incredible months with the two of you! Bring on August 9!!!
Cheers,
Taylor