Wednesday, 18 October 2017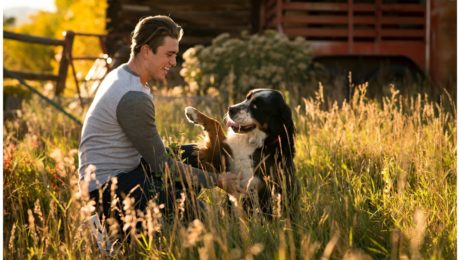 Salida Colorado Senior Portraits Photographer | Zach Salida High School Class of 2018
I'm so excited to share Zach's Salida Colorado senior portraits with you guys today! Senior portraits are some of my favorite sessions to shoot. Especially in a place like Salida, Colorado, our home for the last year and a half. There's always so much excitement with the unknown after high school. For Zach, his unknown is going to start in Spain. This awesome high school senior moved to Salida a couple years ago with his family from Arkansas. He quickly joined the mountain bike team and continued pursuing his love of motocross.
We met his family not too long ago and have since become awesome friends with them! Over dinner one night, Zach was telling us his plan to take a year off of college and head to Spain for some traveling and to practice his Spanish. Being huge travelers ourselves, Mike and I were so excited for Zach! Hearing his plans got us more inspired to do more of our own traveling. Not to mention, these two have an equal love of dirt bikes!
Zach's Salida Colorado Senior Portraits fall session was awesome for so many reasons.
We explored the ranch that both of our horses summer graze on (Finn and Georgia are now in love). The property is an insanely beautiful hidden gem in our area and we're super thankful to the owner for letting us explore and shoot on the family property. Not only did our in love horses follow us around, Zach's family dog, Izzy, was the star of the shoot, and she knew it! She romped around the 600 acre ranch as we shot and came as fast as lightening when we called her for a photo. Her smile in the photos is undeniable! And of course, you can't go wrong with those striking Collegiate Peaks in the backdrop at sunset.
Congratulations on your senior year, Zach! We're so excited to see where your travels take you in the upcoming years. Thank you so much for having us be apart of this time with you.
Cheers!
Taylor
Saturday, 16 September 2017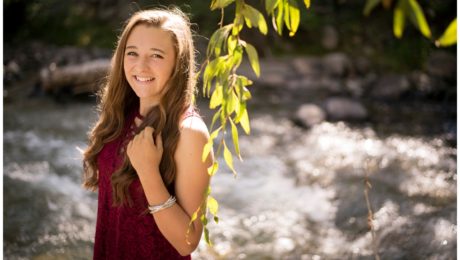 Buena Vista Colorado Senior Portraits Photographer at Mount Princeton
I'm so excited to share Kailey's Buena Vista Colorado senior portraits with y'all today! Kailey lives just outside of Denver, but her family has lived in Chaffee County for a long time. So, it was no surprise that this gal decided that for her senior portraits, she wanted to be unique and head to one of the prettiest places in Colorado (totally not biased, can you tell?)
From the first time I chatted with her mama, I knew they were a family I wanted to work with. After a mutual photographer friend of ours put us in touch, we had a chance to do some brainstorming. Kailey's love for the mountains, river, outdoors, and her passion for sports was so exciting to hear about.  It was easy to find locations in the valley that were perfect. Simply driving around we'd pull over for a middle of the road shot or for wildflowers.
I'm not ashamed to say I try to talk every person I meet into moving here, including Kailey, which didn't take much convincing. After college, she said she plans on eventually moving to the valley.
While we were together, I got to hear all about her dreams for college. With intentions of getting a softball scholarship, her options sound unlimited, with the whole world in front of her! From New York, to Minnesota, to Idaho, this gal is going to do amazing things wherever she ends up. Thank you so much for having me be a part of this exciting time with you and congratulations on your senior year!
Cheers,
Taylor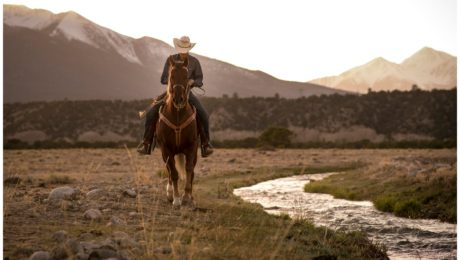 Buena Vista Colorado Senior Portrait Photographer
Being in your senior year of high school is easily one of the most exciting times of your life. Everything in front of you is enticing, unknown, and an adventure. Graduating high school and heading to the rodeo, however, has to be one of the coolest transitions that Nathan has in store for his senior year. When I first met Nathan, at his ranch in Nathrop, Colorado, I knew he was an awesome guy. This is where we have recently planted our own roots, and I get to shoot as Buena Vista Senior Portrait photographer. Watching the sun set over the Collegiate Peaks is something I'll never get sick of.
Nathan shook my hand and walked over to me with his horse, Huck (ironic that his name was Finn and that's what we named our paint horse!) Their relationship was one that I just adored documenting. They pushed each other, nudged the other out of the frame, and I could tell that Huck was just as excited about leaving for college as Nathan was. As we walked around their ranch, Nathan and I also got to grab some shots with his beloved truck. When his folks decided to join us, I knew we had to snag a couple shots with them. I've got to say, I'm so excited to see where Nathan's future takes him. His passion for what he does and commitment to his riding is unparalleled and I'm honored to have been there to document these sweet moments during his senior year. Congratulations, Nathan (and Huck)!
Cheers,
Taylor