Saturday, 18 October 2014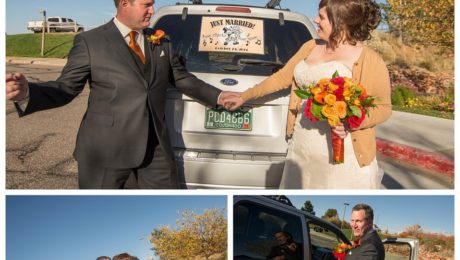 Ed and Katharine's First Look Interview
What are your thoughts about your experience with the first look?
Ed says it was very pleasurable.  He enjoyed the anticipation of what his bride to be would look like in spite of the fact that he wondered if it would feel too staged.  Ed was very happy with the results of how Taylor set up the experience and his own anticipation of it.  I (Katharine) thought it was a wonderful way to start the day.  It let me get some alone time with my husband to be.  I also loved the privacy and intimacy of the moment and getting to twirl for him.
How do you feel it changed, if at all, your walk down the aisle?
Ed says, not at all.  He thought there was still the moment of seeing his bride coming to him in an official status.  I thought it did change it a bit but felt the First Look was worth doing so.
Did your family conflict with your decision to do a first look?
If they did, we didn't know it. They were very supportive.  It was especially nice that my oldest nephew got to walk me to Ed for the first look. That was a cherished and unexpected moment with him. I was so glad Taylor suggested he walk me.
What made it special?
Privacy of the moment, incredible scenery, the shared anticipation that we would soon be husband and wife.
Do you feel it made a difference in your photos?
We chose to photograph our first look, and following it, did a pre-ceremony photo shoot. We enjoyed this time together and felt it honored our guests as they did not wait long for the reception to start. However, Taylor urged us to take a brief photo shoot midway through the dinner hour to capture some "just married" shots. We thought she was spot on with that advice. Those are some of our favorite pictures. We were glowing.
If you had to do it all over again, would you?
Absolutely. We loved the time and the pictures we gained from it and the first look allowed us to let our hair down prior to the tension of the ceremony. Taylor and Mike's light hearted approach was exactly what we needed.
What was the single most memorable moment of your first look?
Ed says, it was a "wow moment". Information overload in a very good way. I thought it was the look on Ed's face when he saw me for the very first time. Ed did not know about how I would be dressed or wear my hair and it was so fun to see him take it all in.
Aside from the first look, do you feel like you had much time to yourselves on your wedding day?
The First Look, and private photo shoots were our time to ourselves. Other than some small moments here and there, we were very engaged with family and enjoying our reception. So, in a way, the first look was our private time and the photo shoots were much-needed respites.